Jennifer Windsor
Global Practice Leader and Senior Director (PLSD) for Gender and Social Inclusion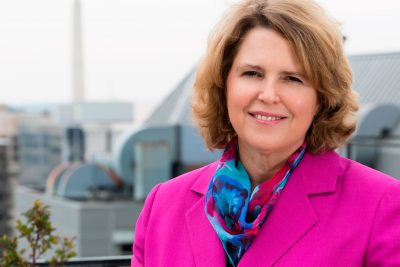 Jennifer L. Windsor is the Global Practice Leader and Senior Director (PLSD) for Gender and Social Inclusion (GSI) at the Millennium Challenge Corporation.  The GSI Practice Group is responsible for identifying measures that will help to ensure that MCC investments benefit women and other socially and economically disadvantaged groups.
Prior to joining the MCC, Jennifer served as a Senior Adviser for the Project on Development and Prosperity at Center for Strategic and International Studies (CSIS). Previously, she was the Chief Executive Officer of Women for Women International, an organization dedicated to supporting the most marginalized women in conflict-affected countries.
From 2010 to 2014, Jennifer was Associate Dean for Programs in the School of Foreign Service at Georgetown University, where she helped to create the Georgetown Initiative for Women, Peace and Security. From 2001 to 2010, Jennifer served as Executive Director of Freedom House, which supports human rights defenders and civic activists around the world and produces Freedom in the World, Freedom of the Press, Nations in Transit and other assessments of country performance in key elements of democracy, governance and human rights.
Jennifer worked at USAID from 1991 to 2000, spearheading efforts to create and build the Center for Democracy and Governance, serving as both Deputy Director and then Director of the Center.  She started her career working on Capitol Hill, working on foreign affairs. Jennifer holds a Master in Public Administration from the Woodrow Wilson School at Princeton and is a graduate of Harvard University.
Topics
Gender & Social Inclusion
Sectors
Energy
Land and Property Rights
Countries
Côte d'Ivoire
Ethiopia
Liberia
Morocco
The Gambia
Tunisia