Katerina S. Ntep
Deputy Vice President, Sector Operations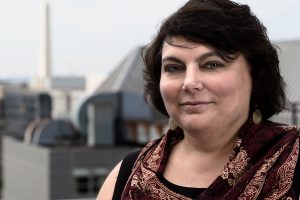 Katerina Ntep is the Millennium Challenge Corporation's Deputy Vice President for Sector Operations in MCC's Department of Compact Operations. 
Ms. Ntep's previous role was as Managing Director for Sector Operations (2013-2021). In that role, she advanced key issues (i.e., women's economic empowerment, social and behavior change) and supported efforts to improve operational effectiveness (i.e. results-based finance). 
From 2006 to 2013, Ms. Ntep served as MCC's Resident Country Director in Ghana overseeing the implementation of the $547 million compact with Ghana. The program was focused on increasing agricultural productivity, diversifying into non-traditional crops, investing in infrastructure, and supporting community services development. 
Ms. Ntep has worked in the field of economic development for more than 25 years, largely focusing on Africa. Prior to MCC, she worked as Advisor to the U.S. Executive Directors at the African Development Bank (1996-2000) and the World Bank (2004-2006). While at the AfDB, she helped negotiate the 9th Replenishment of the African Development Fund and the 5th General Capital Increase of the African Development Bank. At the World Bank, she was part of the U.S. team negotiating the Multilateral Debt Relief Initiative (2005). 
Ms. Ntep also held several positions at the U.S. Treasury Department. She served as deputy director of the Office of African Nations (2002-2004) and loan review manager in the Office of Multilateral Development Banks (2002-2004). In 2002, she served as coordinator for the "Odd Couple Tour" by then-Treasury Secretary Paul H. O'Neill and Bono to Ghana, South Africa, Uganda, and Ethiopia.
Regions
Africa
Europe, Asia and the Pacific
Latin America