BCLC forum highlights private sector investments in water and sanitation for poverty reduction
February 3, 2011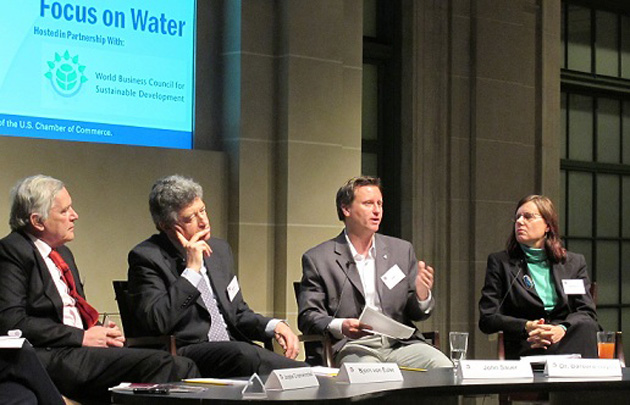 Yesterday I participated in the U.S. Business Civic Leadership Center's "Global Corporate Citizenship Issue Series: Focus on Water" event at the U.S. Chamber of Commerce in Washington, DC. The forum brought together representatives from the private sector, nongovernmental organizations, and government agencies to discuss opportunities for private sector investments in water and sanitation in developing countries.
Lack of safe and reliable access to clean water is a critical constraint to economic growth and poverty reduction. Unclean water and lack of basic sanitation have serious implications for the world's poor, especially in relation to improving basic health and productivity. Recognizing the significance of water infrastructure to the sustainability of MCC's mission, MCC has invested approximately $784 million in water and sanitation.
As part of our mission to reduce poverty through economic growth, MCC is dedicated to increasing the impact of compact funding by integrating the private sector into compact development and implementation. As the BCLC explains, "The links between a lack of access to water and sanitation and development goals are clear, and the solutions to these problems are known and cost-effective. According to the ONE Campaign, meeting the water and sanitation MDG would have a total annual economic benefit of $22 billion for the continent of Africa alone. It is estimated that every $1 spent on water and sanitation generates returns of $8 in saved time, increased productivity, and reduced health costs."
At the forum, I had the opportunity to discuss MCC's work in linking private sector investors to water and sanitation projects in MCC partner countries. In Jordan, for example, the MCC Compact is funding expansion of the As-Samra Wastewater Treatment Plant in partnership with a private sector operator that will mobilize a substantial share of the construction costs on a build-operate-transfer (BOT) basis. This is the first large-scale BOT arrangement that MCC has agreed to fund. MCC's involvement will reduce the cost of capital, allowing consumers to pay lower water and wastewater tariffs than might otherwise have been necessary. This arrangement will also enhance operational sustainability by transferring some risks related to financing, construction, and operations to the private sector.
The BCLC forum highlighted how the private sector, in partnership with other organizations, is implementing programs that go beyond philanthropic models to increase access to safe drinking water and improve sanitation in frontier markets around the world. As my fellow panelist John Sauer of Water for the People said, "Non-traditional [public-private] partnerships are what we're really looking for, because we see that there's a lot of added value. …These kinds of non-traditional partnerships are key."
At MCC, we know that incorporating private sector participation into our compact investments helps ensure sustainability of those investments through expanded markets and increased innovation, job creation and trade. Stay tuned for more news on how MCC is leveraging its private sector partnerships, and read MCC's Private Sector Toolkit (PDF) to learn more about opportunities for investment in our partner countries.