Integrated Program Management in Action: Kosovo Threshold Program
January 30, 2020
Jennifer Niedinger, Senior Policy Officer, Policy and Evaluation
Marc Tkach, Director, Department of Compact Operations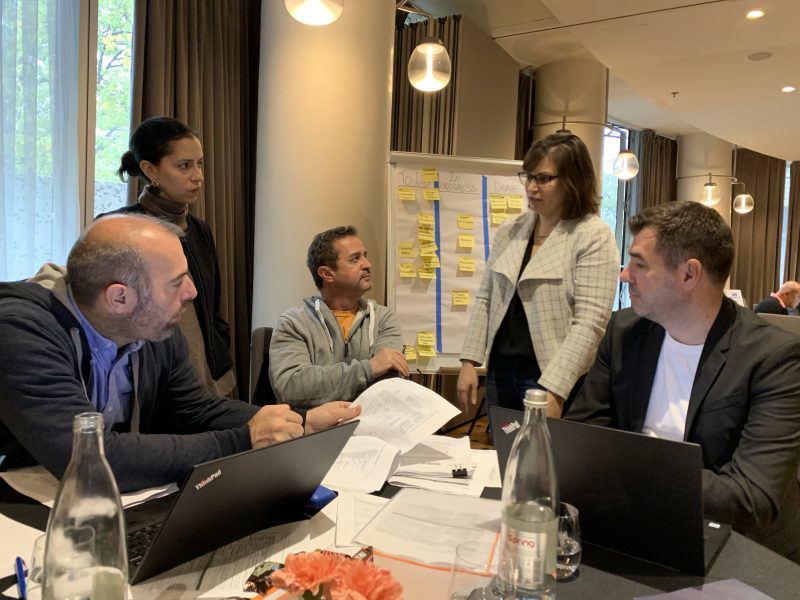 In MCC's 15 years, we've completed a wide range of projects to reduce poverty, from increasing the capacity of Jordan's water treatment plant to rehabilitating roads in Vanuatu. We've learned lessons along the way, and shared them publicly. These lessons highlight the effect of our interventions on economic growth and help us make technical, evidence-based decisions. But there's one lesson that is harder to quantify, which runs through all of our programs across the globe.
Project management is key to the success of our compact and threshold programs. To help ensure effective project management, MCC partners with local entities (Millennium Challenge Accounts, or MCAs) to put programs into action within a set timeframe. Whether the goal is to improve power supply in Malawi or tax administration in Guatemala, each country team needs a framework to gather, organize and share critical information, and the tools to make informed decisions at the right level. MCC's project management training for our partners incorporates experiences from across our portfolio of countries and sectors. The ultimate goal is to keep project planning and implementation on course, and to ensure tax payer dollars are spent wisely.
Effective project management faces a set of challenges, though, such as poorly designed goals, unrealistic deadlines, and insufficient risk management. Sometimes you have the right technical resources to implement the project, but implementers are unfamiliar with project management tools and techniques. Studies by the Project Management Institute revealed that adhering to project management methods and strategies reduces risks, cuts costs, and improves success rates.
MCC's Project Management Workshop in Kosovo
In November 2019, MCC delivered a training on Integrated Project Management (IPM) to the Millennium Foundation Kosovo (MFK), our implementing partner for MCC's Kosovo Threshold Program. The timing was perfect as MFK had just kicked off its three largest projects, representing more than 70 percent of the $49 million in MCC grant funding. With signed contracts in hand, the staff developed project management plans, identified indicators for tracking contractor performance, and even combed through the legal language, all in pursuit of staying on track with project scope, timeline and budget.
Participants found the idea of a project board useful, which can help to elevate and formalize changes and then document them in a systematic way. They found the idea of contract performance monitoring helpful, which entails systematically documenting contractor performance with a quick dashboard view, as opposed to waiting for an annual assessment. Participants also liked the management dashboards, which allow users to consolidate key project information in a timely manner to help running project status meetings more efficiently.
But when asked what they found most useful, participants were unanimous: Tangible tools to promote thinking on how to get ahead of problems. The value of this can be seen in an example from MCC's Namibia Compact. The Namibia Compact funded the renovation and expansion of 47 primary schools, nine vocational training center and five veterinary clinics. Each school's principal had a wish list to add to the scope of the project, such as additional labs, and approached MCA-Namibia with their requests. At first, these changes seemed small and feasible, but it wasn't long before the trickle of requests became a flood. To help manage the overwhelming number of requested changes, MCA-Namibia instituted a change management plan that asked the school principals to work with the MCA to justify their requests in the context of the compact. That extra step eliminated many requests; establishing the process in the change management plan ensured that the remaining requests were reviewed by the right staff at appropriate levels and that the MCA only approved requests necessary to accomplish the project goal.
A Standardized Approach to Project Management
MCC has delivered IPM training to MCAs in El Salvador, Kosovo, Liberia, and Morocco so far. Côte d'Ivoire and Mongolia are expected to participate in IPM trainings and workshops in the next few months. IPM is flexible to the needs of a particular MCA. Compact programs and MCA structures vary greatly across MCC's portfolio, and what makes sense for one compact may not work for another. It is more important for an MCA to design systems that work for them—and use those systems—than it is to follow specific requirements for those systems. Therefore, MCC provides training on the basic tenets of project management, integrating best practice from other MCAs. They also provide optional tool templates that MCAs may choose to use if they meet their needs.
This more standardized approach to project management is relatively new to MCC, and the goal is to help country partners establish easy-to-use cost, schedule, risk, communications, and change management systems that will help managers identify compact priorities, potential risks, and upcoming decision points. This in turn will improve cost and schedule efficiency as well as project quality, allowing MCC's funds to go further and have a greater impact. Several MCAs may have been employing IPM-type tools for years—to what extent depends on the country, staff and project. But this is MCC's first attempt at capturing all those lessons and standardizing the approach.
Ideally, IPM should be rolled out in a continuum, beginning with project development and ensuring that the basic structure for effective project management is in place for implementation. Planning, identifying potential risks, and managing stakeholders are all essential from the early stage of compact development. For example, our partner teams in Tunisia and Burkina Faso, both still in the development stage, are actively discussing how to ensure a project-focused MCA and determining what types of PM services best suit their compact needs over the five-year timeframe.
What's next in Kosovo
Our partnership with the Government of Kosovo is exciting. In the next few years the threshold program will pilot energy efficiency incentives, collect and disseminate information on air quality, and empower women to be leaders in the energy sector. As with all MCC programs, the goals are ambitious, but we know our partner in-country is equipped with the technical and management expertise to get the job done. Follow the Millennium Foundation Kosovo's work on their website, Twitter, Facebook or Instagram.