Building grassroots support for water conservation in Jordan
March 19, 2015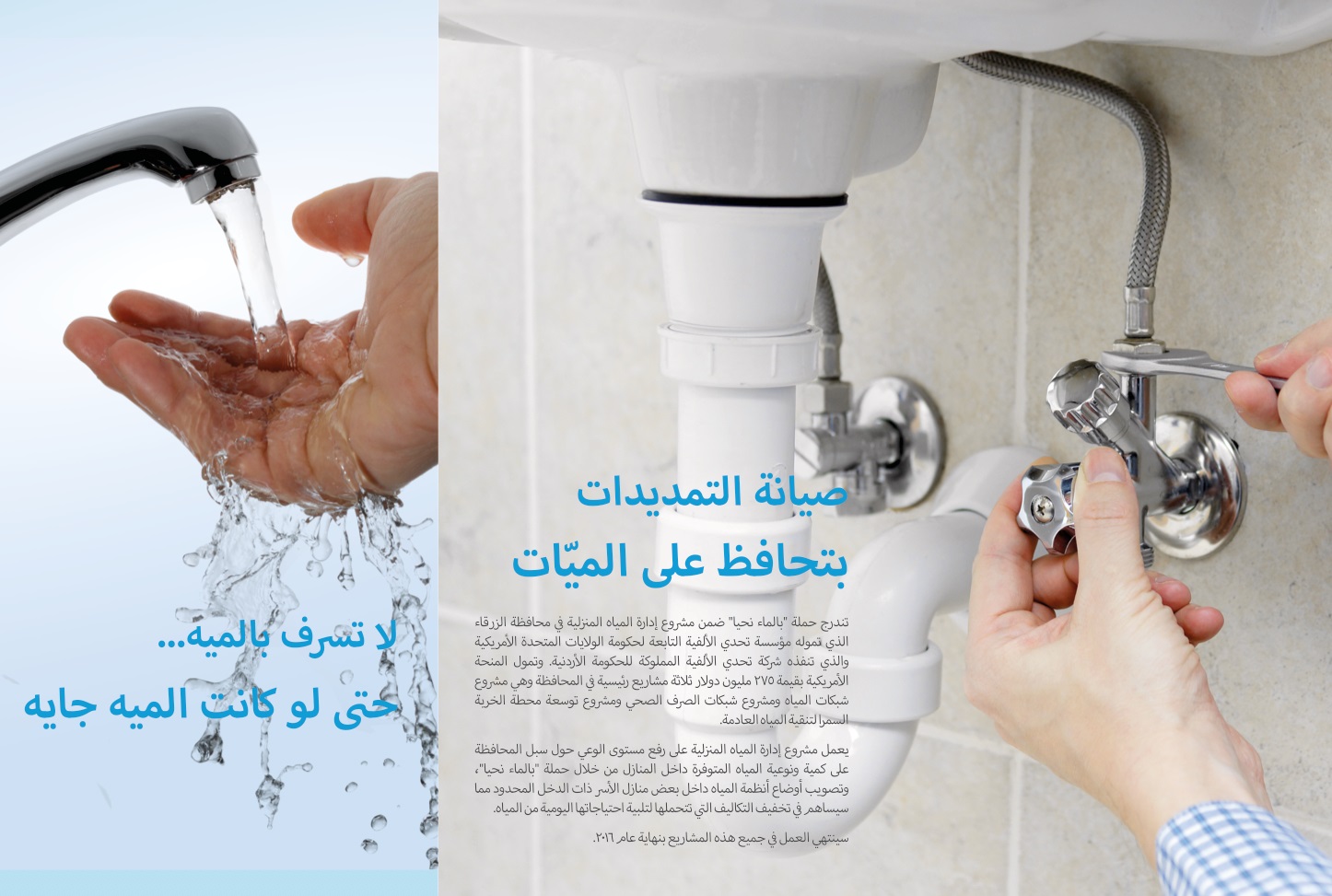 Across Jordan's Zarqa Governorate, a grassroots campaign is getting the word out about the importance of conserving water, an effort that could have long-lasting influence in what is one of the driest countries on earth.
The campaign, called "By Water We Live – We Preserve it to Survive," was organized by MCA-Jordan, whose representatives have been knocking on doors, holding public meetings, erecting billboards and distributing brochures. It's all with the hope that residents in Zarqa, a region of about 1 million people east of the capital city of Amman, will consider the value of water every day and make the best decisions when they use water inside their homes.
Public awareness of the need to conserve water is an important component of MCC's five-year, $275 million compact with Jordan. The compact aims to increase the supply of water available to households and businesses by improving the efficiency of water delivery, wastewater collection and wastewater treatment.
"The MCA-Jordan program is not simply building over 1,000 kilometers of urban water and wastewater pipes to provide safe drinking water in one of the world's most water poor countries," said MCA-Jordan CEO Engineer Kamal Zoubi. "It is reaching out to the local population with the message 'By Water We Live – We Preserve it to Survive' to ensure that the investments being made are understood and sustainable.
The campaign will continue through October 2016. Among its grassroots approaches are home visits to more than 5,000 households which take the message through people's front doors. The households were selected from National Aid Fund (NAF) beneficiaries to receive critical in-home plumbing upgrades to improve water quality and quantity in their home. The visits are also an opportunity to share information—especially with women, the primary users of household water—on the proper maintenance of home water networks and how to keep the quality and quantity of water that is available. The women are also taught how to identify water network malfunctions in their homes and how to address such problems. They're also encouraged to continuously check the general condition of their water tanks and protect them from external pollutants.
MCA-Jordan is working with the Ministry of Education to organize awareness visits to reach elementary students in 225 schools. The plans include screening a short film on water quantity and quality and distributing printed material.
The campaign is also partnering with 12 local women's community organizations on 60 training sessions for women and 20 sessions for men. MCA-Jordan is also working with the Ministry of Islamic Affairs to circulate water awareness messages during certain religious services targeted to women.
The campaign's activities also include billboards with awareness messages in some main streets of Zarqa Governorate and the monthly distribution of brochures directly to residents to maintain water quantity and quality and to check the soundness of the pipe and tank network.
By spreading the word about the importance of managing such a vital natural resource, MCA-Jordan is supporting the Hashemite Kingdom of Jordan's efforts to ensure the availability of water for future generations.