A bottom-up approach to managing irrigation in Mali
April 18, 2014
Tim Mooney
Cynthia Berning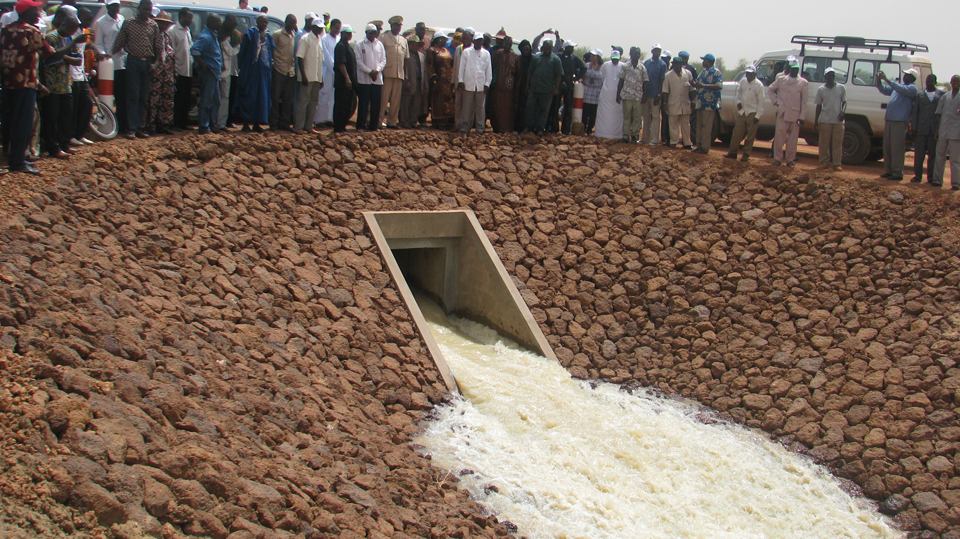 As part of the Mali Compact, MCC invested $252.9 million in the Alatona Irrigation Project to build irrigation infrastructure—but that's not the whole story. Designing a comprehensive package of complimentary activities to ensure the physical canals would have broad and lasting impacts beyond the compact is the rest of the story.
Though much smaller than the construction in dollar terms, these complementary investments will mean the difference between a well-maintained system that operates decades into the future and a short-lived one that falls into disrepair within a few years.
Integrating various activities was critical to sustainability. Infrastructure without effective land allocation can leave beneficiaries with insecure property rights, reducing the chances people will invest in their property. Allocation of secure land rights without good training in agronomy and farm management could mean production levels that do not reach their potential. And water delivery without organizations in place to manage water flow, collect fees for its use and maintain the system can lead to rapid system degradation. Extensive outreach during the implementation helped beneficiaries understand what they were receiving and their responsibilities for ensuring sustainability.
The project adopted an approach different than the typical "top-down" management of irrigation systems in Mali. Traditionally, a centralized agency would fix water prices and dictate how farmers would use their land.
In the Alatona zone, a federation of nine water-user associations now has the legal authority to set water prices, use proceeds to operate and maintain the secondary and tertiary systems and pay the government irrigation agency to operate and maintain the primary system and deliver water to the perimeter. With the project's support and USAID providing post-compact assistance, the federation is operating, managing and maintaining the secondary and tertiary systems of the Alatona Perimeter, while the Malian government is responsible for only the primary canal and drain. The beneficiaries now have an active voice in governing the system that provides them with water.
To maximize outcomes, the project was built on incentives and transparency. MCC built upon the Government of Mali's broader goal of decentralizing government to establish a revenue authority responsible for collecting the Alatona farmers' mortgage payments and using the proceeds to benefit the entire region.
MCC's investments to build the capacity of the water-user associations and their federation, improve land tenure security, establish the revenue authority, and build irrigation infrastructure work together to sustain economic benefits for farmers in Alatona. USAID's follow-on support for these critical institutions developed local skills and help the region toward its goal of self-sufficiency.
What are your experiences building local, bottom-up institutions to manage large works that were previously centrally managed? Have you experienced success with water-user associations? What lessons can you share with us to improve the effectiveness of comprehensive, bottom-up approaches to financing irrigation systems?