Witnessing partnership in action in Lesotho
May 21, 2013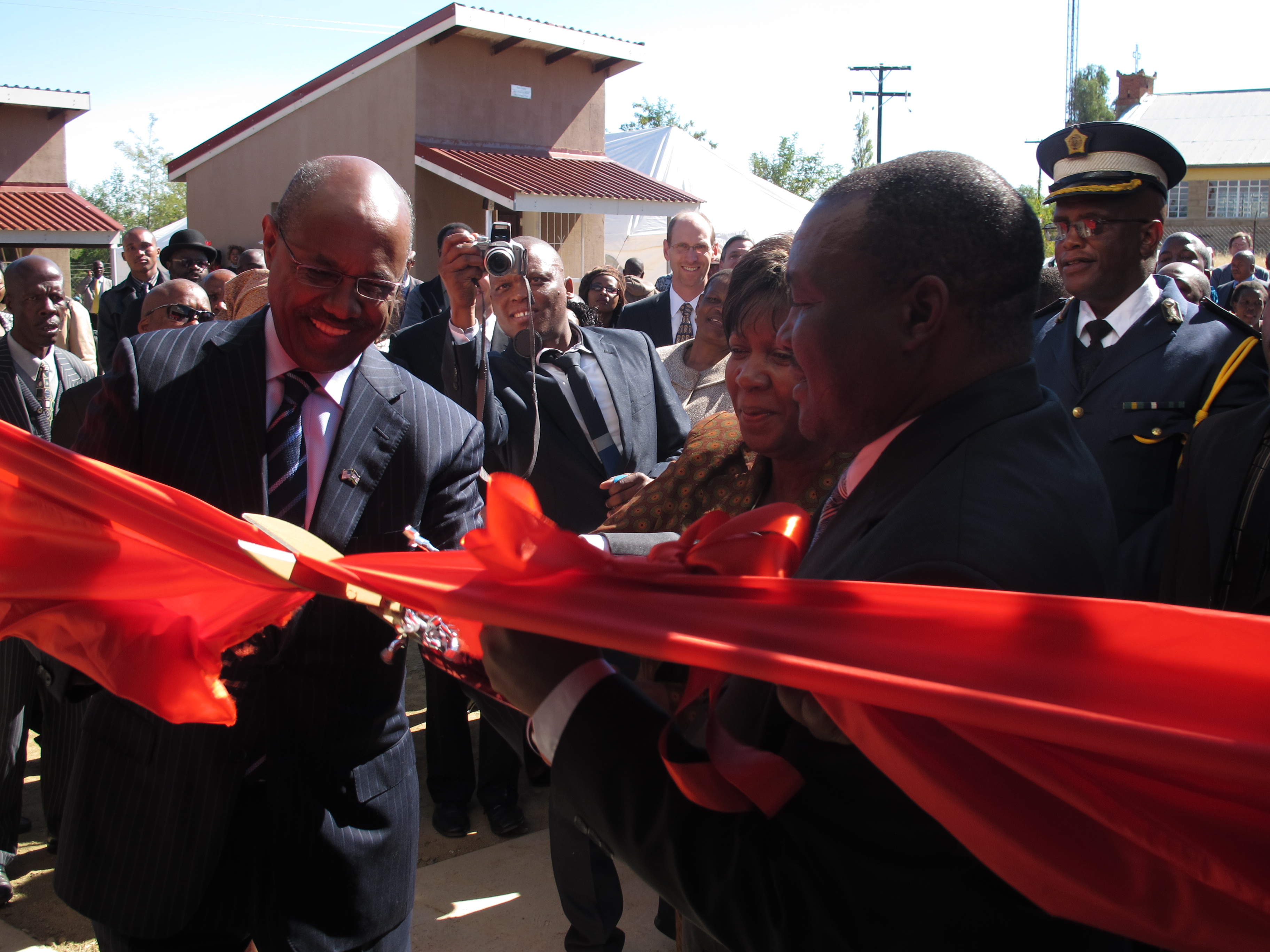 I believe forging partnerships and a country's commitment are what ultimately allow MCC to help more people climb out of poverty. On my recent trip to Lesotho, I was impressed again and again with the kinds of partnerships we forge and the strong commitment of the people of Lesotho. Our relationships—with other U.S. Government agencies, international donors and the Government of Lesotho—are maximizing the impact and sustainability of our investments.
My three-day trip to Lesotho was designed to see the progress of MCC's five-year, $363 million compact, and to hear directly from those benefiting from our investment. I began the trip with a visit to the Samaria Health Center, a beautiful 90-minute drive from the capital of Maseru. I first toured the old health clinic. Its walls were crumbling, and medical personnel relied on a standpipe outside the building to wash their hands. The new health clinic—one of 138 that MCC is building or rehabilitating nationwide—is modern, spacious and properly equipped to provide medical care to the nearby rural community. In the new clinic, I met with patients in the waiting room who thanked us and the generosity of the American people. One woman told me the new clinic was more comfortable and more efficient, and gave her more confidence in the care she would receive.
My next stop, the Botsabelo Health Complex in Maseru, struck me as a perfect example of interagency coordination. MCC invested $12 million to build the National Blood Transfusion Center, the National Reference Laboratory, student dormitories, and staff housing. While we provide the infrastructure and assistance with public health policy reforms, other U.S. Government agencies are complementing our investment with life-saving programs. The U.S. Agency for International Development and the Centers for Disease Control and Prevention, working through the President's Emergency Plan for AIDS Relief, are supporting complementary public health policies, expanding HIV/AIDS prevention and care, strengthening the country's health management information systems, and coordinating ongoing training for nurses.
In addition, these agencies are funding comprehensive HIV/AIDS prevention, treatment and care programs. This includes training nurses in the prevention of mother-to-child transmission of HIV/AIDS, which will be made easier and more effective through new maternity services offered in MCC-funded health centers. Almost one quarter of Basotho are HIV positive, and I am proud to say that the U.S. Government is responding to the epidemic in these proactive ways.
The following day, I toured the site of the Metolong Dam Water Supply Program, an ambitious $439 million project funded by several donors including MCC, that will provide clean water to 700,000 people—almost one-third of Lesotho's population.
MCC is funding construction of the Metolong Dam's water treatment facility, command reservoir and associated pipelines, as well as the project's designs and project management unit. We are working hand-in-hand with donor agencies from Kuwait, Saudi Arabia, the OPEC countries, the Arab League, and the European Union as well as with the World Bank and the governments of Lesotho and South Africa to build one of Lesotho's largest infrastructure upgrades since independence.
The residents of my next stop, Ha Janki, were singing and ululating when I arrived in their village. MCC funded the installation of a water system and latrines, meaning members of the community no longer need to walk miles each day to fetch water. With us on this visit was Anne Brewer, a Peace Corps volunteer who provides HIV and gender training in a neighboring community benefiting from our rural water investments.
Speaking the local language, Sesotho, Ms. Brewer told the residents that the people of Lesotho have made her feel at home. After such a warm welcome, I knew exactly how she felt.
On my final day, I attended a private sector breakfast to listen to community members speak about how MCC-funded reforms in the country's laws governing banking, gender, land, and the judicial system are improving Lesotho's business climate and what else could help attract investment. Each presenter had a different story to tell, but there was a common theme: Advancements in engaging the private sector were made possible because MCC worked closely with the Government of Lesotho to reform policies.
The government's contributions don't stop there. The Government of Lesotho has committed $150 million to complete any projects that are not completed by the time our compact ends in September. That is a tremendous commitment and provides an outstanding example of country ownership.
I left Lesotho with pride about what we achieved and optimism about the future. And when people ask me about the role of partnerships in international development, I will tell them to look at what is being accomplished in Lesotho.