Outreach to Private Sector Helps MCC Analyze Economic Constraints
July 1, 2019
Karen Sessions, Vice President, Congressional and Public Affairs
Olowo-n'djo Tchala, CEO of Alaffia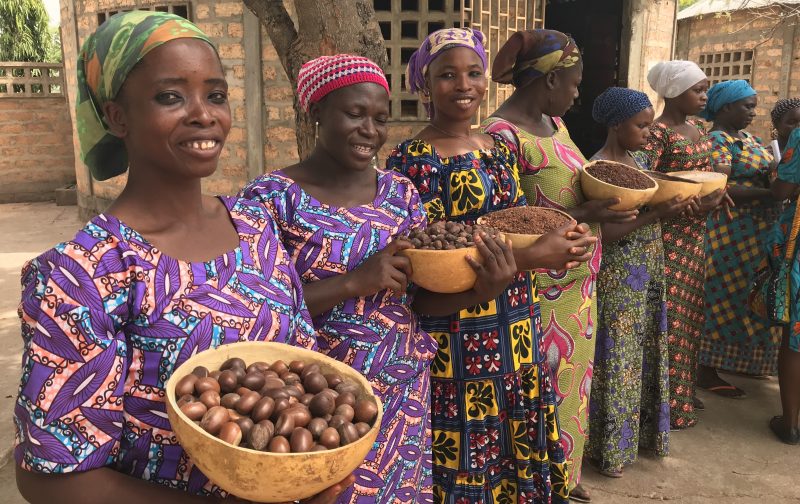 When MCC begins the process of developing a compact or a threshold program, we take a good look at what is holding our partner countries back from greater economic growth. Engagement with the private sector is a key part of that process.
After our Board of Directors selected Togo as eligible to develop a threshold program, MCC set out to conduct a constraints analysis to determine what is preventing the Togolese economy from growing at a faster clip. One of the most important parts of that process is meeting with business leaders to understand what is holding back private sector growth in our partner countries.
I recently had a chance to speak with Olowo-n'djo Tchala, the CEO of Alaffia, a social enterprise that produces traditionally crafted shea butter and coconut-based beauty products. Alaffia operates in Togo and Olympia, Washington, and has a stated commitment to social responsibility and fair trade. MCC has engaged with Alaffia to get a feel for the challenges businesses face in Togo and the opportunities that we can help them unlock.
Karen Sessions: In designing its threshold program in Togo, MCC engaged with businesses like Alaffia to determine how to create a more supportive environment for the private sector in the country. What do you think of that approach, and what was your experience engaging with MCC?
Olowo-n'djo Tchala: From our standpoint at Alaffia, we are primarily interested in two things in Togo: running a successful business and meeting our obligations for social responsibility. We thought MCC's approach of listening to stakeholders from the public and private sectors was the right one. Therefore, we were happy to be involved in the process. For MCC, I think engaging with Alaffia made it possible to see the true reality of Togo. We offered a pipeline to rural areas of our country so MCC could interact with rural citizens and understand their challenges. Also, since MCC and Alaffia both focus on women's economic empowerment, we were able to arrange meetings with women and local leaders.
KS: For its threshold program in Togo, MCC will focus on two constraints to economic growth in the country—the ICT sector and the land sector. How will an improved ICT sector and land reform benefit businesses like Alaffia?
OT: An improved ICT sector and land reform would boost our business in several ways. ICT upgrades would allow us to gain greater transparency into our operations—we would know what is happening on the ground in real time so we can make faster, better decisions. Currently, we negotiate the price of millions of pounds of shea nuts. A one hour delay in communication can cost us thousands of dollars so reliable cellular networks are essential.
In terms of land reforms, property rights are the foundation of economic activity. Unfortunately, the paperwork involved is daunting and nothing is digitized yet. Without a sense of security on property rights, it's difficult to make investment decisions. Land reform would provide certainty to investors. Another issue land reform touches is equality. We must have a way for women to have equality in property ownership.
KS: Alaffia has a presence in the Seattle area, where your final products are produced. How does support for your operations in Togo affect jobs for Americans?
OT: At the end of the day our unit costs have to make sense for American consumers. Right now, it costs us more to operate in Togo than other countries. We spend 30-40% more than what it would cost in Ghana next door. Improved ICT infrastructure in Togo would help us lower those costs and invest in more staff. We will create more jobs in America and more jobs in Togo with better ICT infrastructure.
KS: Why do you think investing in women's economic empowerment makes good business sense?
OT: At a human level, things aren't fair for women, economically speaking. From a business perspective, you have to maximize available resources, and if you are not looking at women as potential employees because of their gender then you are not maximizing your ability. Furthermore, modern consumers are demanding that enterprises do more than just make a profit—they want us to do good in the world. This is the new paradigm.
KS: Thank you for speaking with me, Olowo-n'djo. We at MCC look forward to our partnership with Togo and to unlocking new opportunities for the private sector.
OT: Thank you. We look forward to it, as well.