Sierra Leone Government Adopts MCC-Supported National Resettlement Policy, the First of Its Kind in Africa
September 20, 2021
Sarah Martiny, Senior Program Officer, Environment and Social Performance, MCC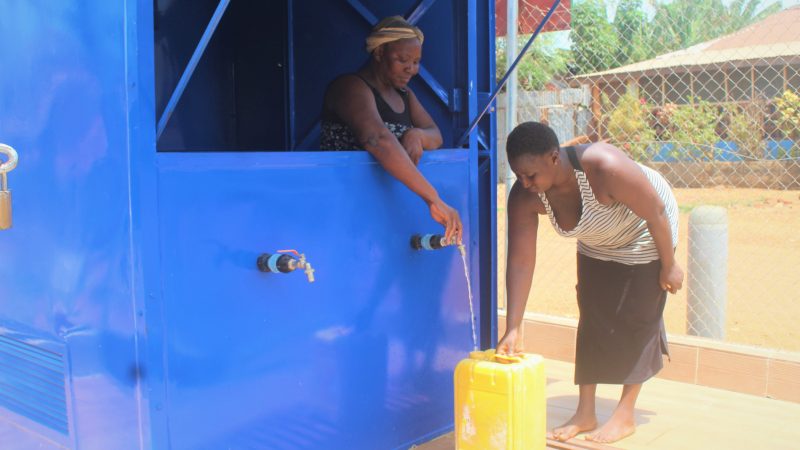 MCC recently closed the $44.4 million Sierra Leone Threshold Program focused on institutional strengthening and policy reform in the energy, water, and regulatory sectors. One of the threshold's major activities was a District Metering Area (DMA) and water kiosk installation pilot program, implemented with the Guma Valley Water Company (GVWC), to improve water access. As the pilot involved installing new water pipes and distribution kiosks in densely populated neighborhoods of Freetown, some households and businesses had to relocate to make way for the new infrastructure.
In accordance with MCC's Environmental Guidelines and IFC Performance Standard 5 on Land Acquisition and Involuntary Resettlement, resettlement refers to situations where people face physical relocation, such as loss of shelter or a home, and economic displacement, such as loss of a job or income because of projects or investments affecting how land is used in a specific area. The threshold team held consultations with key stakeholders in Sierra Leone, including government ministries and local communities to understand resettlement implications on the threshold program. The team found that there was no existing legislation or policy framework on resettlement in Sierra Leone. Historically, when people were required to relocate for projects, the situation was often handled in an inconsistent and haphazard way, with some people being forced out of their homes with no place to go. While the initial plan was to support a resettlement framework for threshold program-related infrastructure, the team soon realized it would be more effective to support the government in developing a nationwide policy. MCC also supported the government to develop an implementation plan for the policy, identifying the ministry that will oversee the policy's implementation, what kind of staffing and support they would need, and other practicalities.
According to Ansumana Swarray, Water Sector Project Director of the Millennium Challenge Coordinating Unit (MCCU) (MCC's local partner): "We wanted a policy that is integrated, useful and applicable to all the sectors in Sierra Leone. Before this policy, different sectors developed and used different resettlement policy frameworks, which created some confusion and misunderstanding. For instance, if two or more sectors are working on different development issues, but in the same area, they would have to apply different policy frameworks. This was not helpful to the affected persons."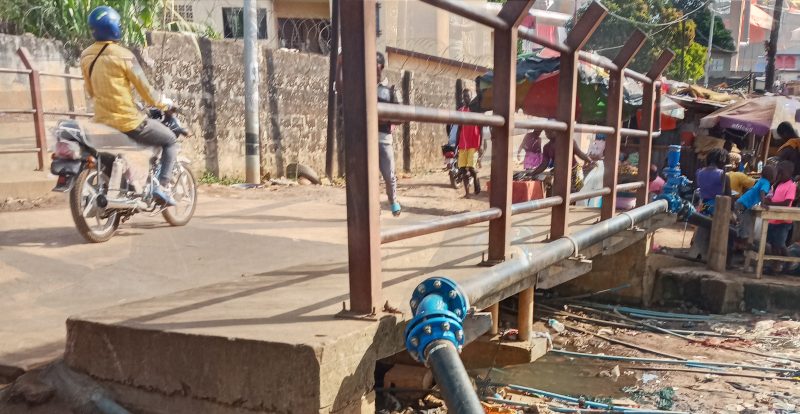 A Fairer Approach to Resettlement
While developing the program, MCC met with other donors to align our respective approaches to resettlement. The U.K.'s Foreign, Commonwealth & Development Office (FCDO, formerly DFID) adopted MCC's resettlement standards for its own investments with GVWC, reinforcing adherence to international best practice and emphasizing the need for a standardized approach to resettlement for all development projects in Sierra Leone.
Between MCC's investments and pressure from other donors, the Government of Sierra Leone began to recognize the benefits of following MCC's approach to resettlement. Research shows that, when not managed properly, resettlement can result in long-term hardship and impoverishment, such as homelessness, job loss, and food insecurity, creating new socio-economic problems elsewhere (IFC PS 5). Following IFC Performance Standards, MCC's resettlement ultimately saves time, with the added key benefit of maintaining or improving quality of life for those affected through the relocation, job training, or compensation process.
For those who were resettled as part of the threshold program, the change has had a clear benefit.
"I was able to use the compensation money to buy a small refrigerator," said Mrs. Kamara*, who was among those relocated due to construction for the DMA program. Mrs. Kamara, who operates a business selling fresh produce, was compensated for loss of income during the time she could not run her business because of the move. With her compensation money, she purchased a refrigerator, helping to keep her produce fresh and make her business more competitive.
In the threshold's DMA and kiosk pilot program, 46 people required compensation for loss of land, businesses, or loss of income as a result of the  construction work. The majority of these affected people work as informal traders selling fresh produce, smoked fish, and household goods from stalls they have set up on major streets. In the completion survey conducted with 39 affected people at the end of the resettlement process, 31 reported that their lives improved, or had a significant positive impact as a result of the resettlement experience. Three people, two of whom were high school dropouts, reported that the Resettlement Action Plan (RAP) process significantly improved their social status. Two are back in school and one intended to enroll in June 2021. Only seven affected people reported that the resettlement and livelihood restoration process did not make any difference to their lives in general; they did not experience any improvement in their socioeconomic status, nor did they suffer any negative impacts.
Some people utilized the compensation to clear credit. Mrs. Turay*, who deals in dry goods including a small selection of toiletries, said, "I used part of the money to go directly to the dealer to buy goods. I had been buying on credit from a middleman and this was expensive. Now I have cleared the credit and own the stock. My profits are much larger."
Another young woman stated, "with the loss of my father, it has been difficult for me to complete the senior education and pursue higher one. Sales from the petty trading have not been sufficient to support my education. With the compensation, I have been able to complete the WASSCE (West African Senior School Certificate Examination) exam and will enter the university when the next academic year starts in October this year."
Given that many of those impacted ran small-scale businesses offering a limited range of goods and services, MCCU and MCC provided business management training to those impacted to improve the sustainability of the move.
Next Steps for the National Resettlement Policy
Now, a new National Resettlement Policy sits before the government and will provide a clear standard on how to compensate and relocate those affected by projects. The policy was approved by Sierra Leone's Cabinet in February 2021, and the bill has been under legal review since May 2021. Upon completion of the review, it is hoped that the bill will be passed into law during the latter half of 2021.  Moreover, efforts are underway to establish a Resettlement Secretariat within the Ministry of Planning and Development.
The resettlement policy, and its implementation strategy and plan, is the first of its kind in Africa. "When the bill is enacted," says Swarray, "it will be a powerful and useful document that will restore the dignity of affected persons and will lead to better management and regulation of resettlement activities. It will also contribute to the socioeconomic development of the country. I see it as a model that other countries will emulate in the not long distance."
*Names have been changed for privacy reasons.