Q&A with MCC's Jennifer Windsor and Agnieszka Rawa: Celebrating International Day of the Girl Child
October 11, 2017
Katherine Vaughn, Data Support Specialist for Gender and Social Inclusion
In celebration of International Day of the Girl Child, MCC's Katherine Vaughn spoke with Jennifer Windsor, MCC practice lead and senior director for gender and social inclusion, and Agnieszka Rawa, MCC managing director for Data Collaboratives for Local Impact, to discuss the importance of closing the gender data gap, and how improving the supply and demand of gender data supports MCC's mission.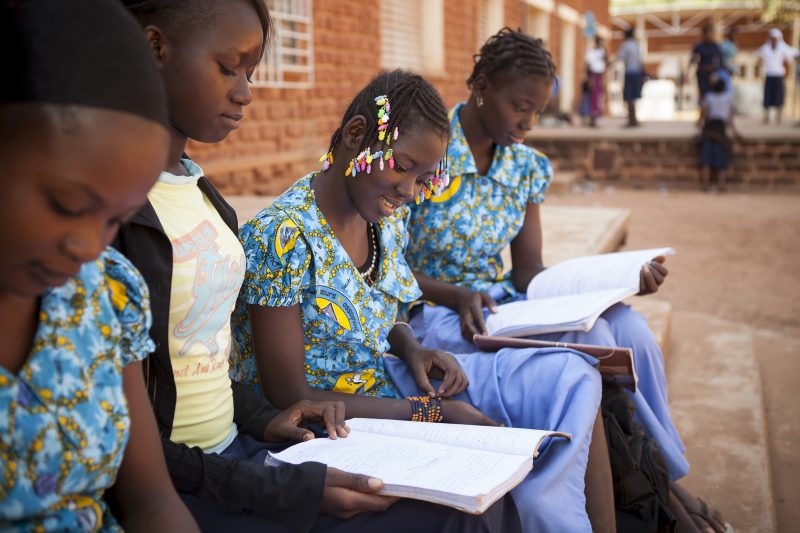 Today MCC is celebrating Day of the Girl Child. Why is this day significant for MCC?
MCC's mission is to reduce poverty through economic growth; however, this will be difficult to achieve if half of the population spends its childhood with unequal access to education and health care, has fewer well-paying job opportunities, and faces social pressure to get married and start a family before finishing or even starting high school.
Gender and social inequality are known constraints to economic growth. This can be seen in sub-Saharan Africa, where gender inequality in the labor market led to an annual loss of approximately $95 billion between 2010 and 2014. Social inclusion is essential to MCC's success in reducing poverty and driving growth, and MCC's commitment to girls is embedded in our business model.
It can be seen in our country scorecards, which include two indicators specific to girls' education: completion of primary school and enrollment in secondary education. It can also be seen in our compacts and threshold programs, where we have helped our partner countries tackle barriers to girls' access to health care, education and employment to drive growth and fight poverty.  Each MCC compact and threshold program considers gender and social inclusion in project design, recognizing that it is critical to economic growth and reducing poverty.
Why is it important to specifically consider girls and young women in development?
Girls and young women represent half of the future workforce in every country, as well as half of its potential leaders and thinkers, and yet they face barriers specifically because of their gender that keep them from reaching their full potential. The status quo significantly impairs progress in reducing poverty around the world.
Global GDP would increase by $28 trillion if women had the opportunity to participate in the global economy at equal rates to men. MCC helps partner governments put in place policies, laws and practices that enable women to have equal participation in the economy while supporting women entrepreneurs, expanding income-generating activities and employment opportunities for women, and increasing women's access to critical services like health care and education.
What is MCC doing to better collect and use gender data?
Gender data is sex-disaggregated data and other information that is specific to women and girls, such as maternal mortality rates. MCC has made a commitment to make all of its gender data public on the International Aid Transparency Index (IATI) and the MCC website so others in the development community can learn alongside MCC in how to design increasingly effective programs. To support this, MCC has embarked on an effort to standardize its gender data definitions and tags, and become more strategic in its collection and use of gender data.
We're also working to stimulate interest in gender data around the world and promote its use at the local level to encourage data-driven decision-making. To that end, from April through July of 2016, MCC held a gender data competition in Côte d'Ivoire to stimulate demand and use of gender data to solve local challenges specific to women and girls.  The competition kickoff attracted 80 project proposals from various teams, each of which had a female team member, and some of which were all-women teams. Among the winning projects was a web application that helps guide girls in planning for their dream careers.
This year, MCC also updated the Gender in the Economy indicator on its policy scorecard to more comprehensively reflect the nature of women's participation in the economy. The indicator comes from the World Bank's Women, Business, and the Law Report, and the new version of the indicator will begin being used on MCC's scorecards in fiscal year 2019.
MCC partners with the President's Emergency Plan for AIDS Relief (PEPFAR) on a program called Data Collaboratives for Local Impact (DCLI). How is DCLI helping to drive demand and use of gender data?
The Data Collaboratives for Local Impact (DCLI) program improves the capacity of individuals, communities and organizations to use data to solve problems relating to HIV/AIDS, global health, gender equality and economic growth. All DCLI projects train youth, innovators, and agents of change to use data in order to achieve greater development impact – and make social and gender inclusion an imperative.
For example, DCLI's data lab or dLab, a physical space on the University of Dar es Salaam campus staffed with data scientists and equipped with IT and data resources, has developed and delivered data analytics, visualization and storytelling courses customized to adolescent girls and young women.  These courses are helping young women get jobs, win grants and make better personal life choices.
Through Data Zetu, a project in Tanzania that amplifies citizens' voices by making data accessible and meaningful at the sub-national level, DCLI has been actively engaging with and involving adolescent girls and young women to understand the challenges they face, such as the high rate of school dropout, and the lack of economic opportunities. Data Zetu is using data to empower adolescent girls to lead efforts to address these issues in their communities.
Finally, the Data for Local Impact (DLI) Innovation Challenge, which awards small grants of up to $25,000 to Tanzanian individuals and organizations who have creative ideas about how to use data in new ways, launched its most recent competition focused on empowering adolescent girls and young women to lower their disproportionally high risk of HIV/AIDS. Almost 200 applications were received for the competition, including one proposal to adapt popular TV and social media into "edutainment" channels to relay important data to young women and girls, so they can reduce their and their family's risk of contracting HIV/AIDS. Today, on International Day of the Girl Child, DLI will be announcing grantees, mostly young women, who will benefit from mentorship and funding to more fully develop and deploy their data-driven solutions.
Why is this work to improve the supply and demand of gender data important to MCC's mission and programs?
There is a global lack of quality gender data, especially regarding women's economic activity and factors that affect their ability to make money. Since women and girls represent half of the population, a lack of quality gender data can lead to poor policy choices in economic development. By stimulating the data ecosystem on both the supply and demand sides of gender data, we can improve the quantity and quality of gender data, and use this data to solve critical development challenges. We expect this to, in turn, improve MCC's impact and that of other development and policy initiatives around the world that work to raise girls up, transform lives and create opportunity.