Dispatch from Kosovo
December 18, 2017
Brian J. Forni, Managing Director, Congressional and Public Affairs
As our plane descended over the night sky of Pristina on Sunday, November 19, I thought about how far Kosovo has come since becoming an independent state in 2008. Following wars that devastated the Balkans during the 1990s, Kosovo worked hard to emerge as a democracy with a growing economy. Still, many challenges remain for one of the world's youngest countries. Perhaps the biggest challenge is poverty reduction in a country where 30 percent of the population lives below the poverty line.
The United States has been a steadfast supporter of the people of Kosovo and the country's path toward Euro-Atlantic integration. MCC's new $49 million Kosovo Threshold Program further solidifies this commitment.
I travelled to Kosovo with MCC Chief Operating Officer (COO) Jonathan Nash for the launch of Millennium Foundation Kosovo (MFK), a Kosovo-led entity established by the Government of Kosovo to implement the threshold program. The program will support the Government of Kosovo's efforts to lower energy costs for households and businesses and improve transparency and accountability.
As we arrived, there was both tension and excitement in the air as ballots from local elections were being counted. Entering Pristina, I saw democracy at work as jubilant crowds marched down snowy streets, waving flags and playing drums as they celebrated their candidates' victories.
Before checking into my room, Jonathan Nash and I ran into a man who needs no introduction in Kosovo — particularly since he has a street named after him in the western city of Pec (Peja in Albanian) — the Ranking Member of the U.S. House Foreign Affairs Committee Eliot Engel. Congressman Engel has been a dedicated advocate and friend of Kosovo since the 1990s, and during the trip, the Government of Kosovo honored him again with his own postage stamp.
As a member of MCC's congressional affairs team, I was thrilled that Congressman Engel was able to visit Kosovo for the launch of this exciting program. Just this past September, Engel, Chairman of the House Foreign Affairs Committee Ed Royce and Nash welcomed Kosovo President Hashim Thaçi in Washington, D.C., for the signing of the threshold program agreement — MCC's first signing on Capitol Hill.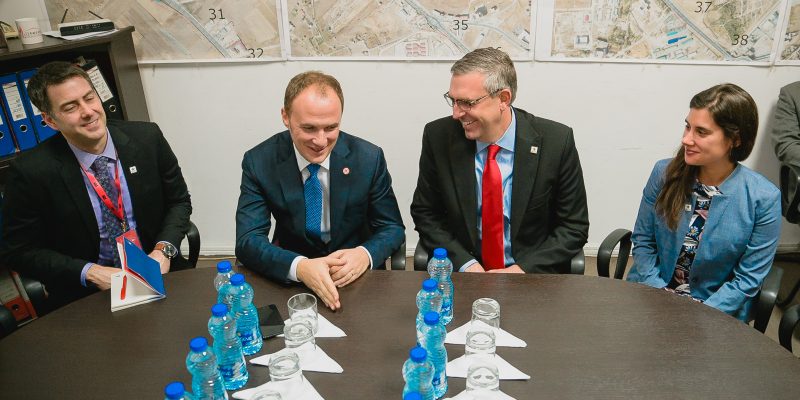 The next day started early for the MCC team in Pristina to connect with the people of Kosovo and meet with key stakeholders. First up was a Facebook Live interview with USAID's Kosovo Mission Director Jim Hope, followed by the 90-minute main event, which was televised live across the country. At the launch, Kosovo Prime Minister Ramush Haradinaj, Kosovo Foreign Minister Behgjet Pacolli, Congressman Engel, the U.S. Chargé d'Affaires Colleen Hyland and Jonathan Nash discussed how the threshold program will contribute to economic growth and open up new opportunities for the people of Kosovo. From there, Jonathan Nash did a joint interview with Engel for Radio Free Europe/Radio Liberty, followed by an interview with Radio Television Kosovo and a flurry of meetings with Kosovo Government leaders, including Prime Minister Haradinaj, Kosovo Speaker of Parliament Kadri Veseli, and Deputy Prime Minister Dalibor Jevtić. The day finished with a visit to Termokos, a public enterprise that supplies district heating to the capital city and will benefit from MCC's energy investments.
During these meetings, I witnessed the challenges faced by Kosovo's households and businesses. Since consumers do not control how much energy they receive, most rooms were uncomfortably hot. To cool things down, they open a window — which is a considerable waste of energy. MCC's threshold program will work to give households control over their own energy costs by providing information about energy use, and options for lowering it, as well as piloting the installation of meters. Lower energy costs means families can redirect spending to more productive uses such as education or entrepreneurship, which can drive economic growth in their communities.
After a late dinner and quick rest in my room, it was time to leave Pristina. My 36 hours in Kosovo went quickly, but the excitement of working with a dedicated and enthusiastic MFK team to drive growth and expand opportunity for the people of Kosovo is just beginning!