Celebrating a Historical Partnership and Prosperous Future
July 30, 2010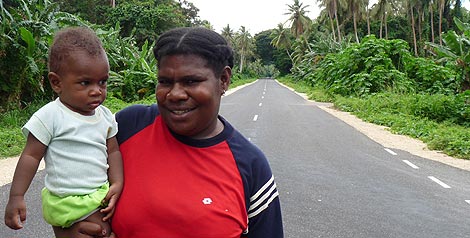 Out in the Pacific Ocean is a country that has held close ties with the United States for 70 years. America's friendship with Vanuatu began during World War II when American service men and women came to set up bases in Vanuatu. During this time, thousands of soldiers were based in the islands. Proud of the relationship, Vanuatu still boasts three man-made hills that spell out the letters U-S-A, which can be seen by plane.
In 2006, Vanuatu received a $66 million grant from the United States to support the restoration of roads on two of the country's major islands – Efate and Espiritu Santo. These two road projects are much more than repairing and paving old, tired roads. They are providing the gifts of time, income opportunities, education and medical access.
You don't have to look hard to find the roads' impact among the people of Vanuatu. The road on Efate Island – which wraps around its coastline – allows bus, taxi and truck drivers to work without the consequences of excess damage to their vehicles or major repairs. Villagers are able to deliver firewood, flowers and produce to market several times a day rather than a few times a week. There are school children who no longer need to board at their campuses because of the decrease in travel time, and parents who are now able to take their babies to the hospital in minutes instead of hours.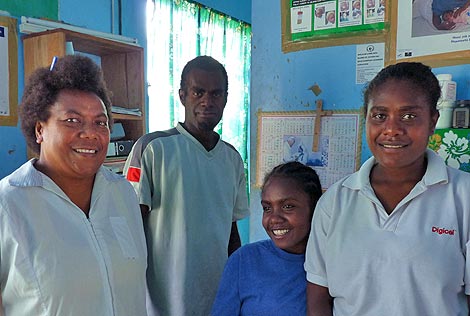 On Espiritu Santo Island, the restoration of the East Coast Road is giving coconut and cattle farmers the chance to export more frequently – and without the risk of damaging produce in transit from rough and washed-out roads.  Natural heritage sites such as lagoons, waterfalls, geothermal hot springs, and "blue holes" (indigo-colored underwater sinkholes) are now easily accessible to paying visitors and tourists interested in Vanuatu's unique environment and ecosystem.
Capitalizing on MCC's principle of country ownership, the Provincial Government for Efate has financed new village markets alongside the new, blacktop roads. These markets, managed by village women, are helping generate income, opportunities and local investments. Some women have also benefitted from the road construction by selling rice and fish lunches to road workers.
With support from the MCC program, Vanuatu has established community contracts, which empower villages to preserve sections of roads that pass through their jurisdiction. These activities, such as clearing debris from drains and removing low-value vegetation from the road, have cultivated an enormous amount of pride within the communities.
Vanuatu's MCC grant does much more than build roads; it's a partnership with the people and the government that provide them with the means to develop their own paths to prosperity.  And as the roads near completion – and Vanuatu prepares to celebrate its 30th anniversary of independence – the country has plenty to celebrate.