Land rights bring economic development in Mali
February 7, 2012
Jon Anderson, Resident Country Director, Mali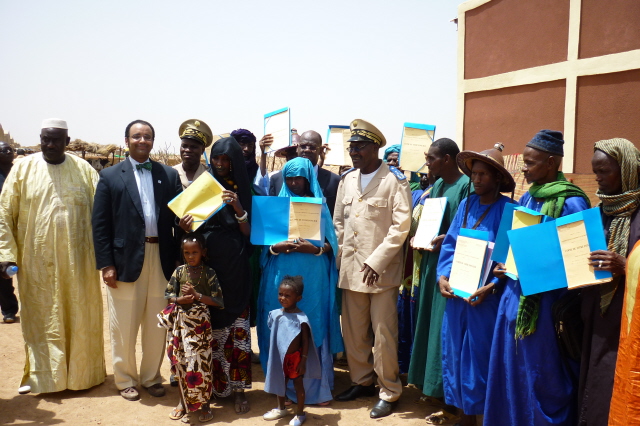 Secure land tenure is a key to poverty reduction. It can improve access to credit, increase incentives for better land management and investment, and allow people the ability to capitalize on their assets.
 
In some African countries, land "grabs" by large companies are a growing concern for small farmers, many of whom lack formal title to the land their families have used for generations.  In the struggle for land resources with big players, poor farmers are often on the losing end.
But in Mali, MCC is helping the government strengthen the land rights of small farmers.
Prior to the MCC-funded Compact in Mali, formal land titling was almost unheard of in rural areas. The Mali Compact's Alatona Irrigation Project is changing this by employing an integrated approach to agricultural development to bring almost 13,000 acres of intensively irrigated agricultural land into production and provide secure land rights for almost one thousand farming families. 
 
The Project is allocating most of the twelve-acre farms it develops to the people who used or lived on it prior to the Project, with the rest going to small farmers from elsewhere in Mali.  In addition, the Project is providing support to ensure that smallholder farmers have what they need to succeed, from infrastructure like housing, markets, latrines, schools, health centers, and wells for potable water, to services like agricultural training and access to credit. An improved road will also provide local families better access to markets in which products can be bought and sold.
 
The land component of the Project strives to incorporate women into the formal economy partly by providing them with land for market gardens and giving them the chance to be listed as owners on land titles to twelve-acre farms. As a result of this and other efforts to include women in Project activities, women are emerging as a force in the local economy, striving for better lives for their daughters and sons.  Some of the highest yields to date have been produced by women farmers.
The Mali Compact serves to enhance the property rights of local families and communities, thus helping the poor and vulnerable to participate in sustainable economic growth. MCC is proud to support such efforts.