On the ground in Liberia
July 15, 2010
Last week I was fortunate to represent MCC at a signing ceremony kicking off MCC's $15 million Threshold Program with the Government of Liberia.  Liberia's President Ellen Johnson Sirleaf and a bipartisan U.S. congressional delegation led by Rep. David Price and Rep. David Dreier, representing the U.S. House Democracy Partnership, also attended the signing ceremony, which took place in Monrovia.  We were also pleased to have Rep. Donald Payne participate in the ceremony as a long-time supporter of African development and MCC.
The visit marked my first time back to Liberia since a 1999 trip as a member of a congressional staff delegation reviewing the status of refugees in what was then a conflict-riven region.  What I saw on my recent trip provided considerable hope that Liberia, under the leadership of President Johnson Sirleaf, is well positioned to translate MCC's Threshold Program investment in land access and policy, girls' primary education, and trade policy into successfully- implemented programs that will meaningfully contribute to Liberia's future development.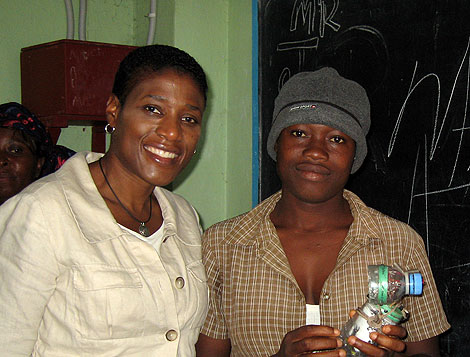 While all three components of Liberia's Threshold Program were identified by Liberians as a part of their national development strategy and are designed to improve Liberia's performance in the policy areas measured by MCC eligibility criteria, the girls' primary education program has a particular resonance for me as MCC's point person for the integration of gender equality in the programs we fund.  This is a priority that I share with President Johnson Sirleaf as we, and many others, recognize, without question, that educating girls is crucial to a country's long-term economic development. 
There is no question that the road ahead will be challenging for Liberia, but the country continues to make significant strides in demonstrating a commitment to policy reform and responsible leadership under President Johnson Sirleaf that made our Threshold Program partnership possible in the first place.  We look forward to working with the Government of Liberia and USAID, the U.S. Government agency that will administer the Threshold Program, to ensure the delivery of results that will improve the policy environment in the targeted sectors and contribute to the long-term growth and prosperity of the people of Liberia.