Reflections from Tacloban
April 28, 2014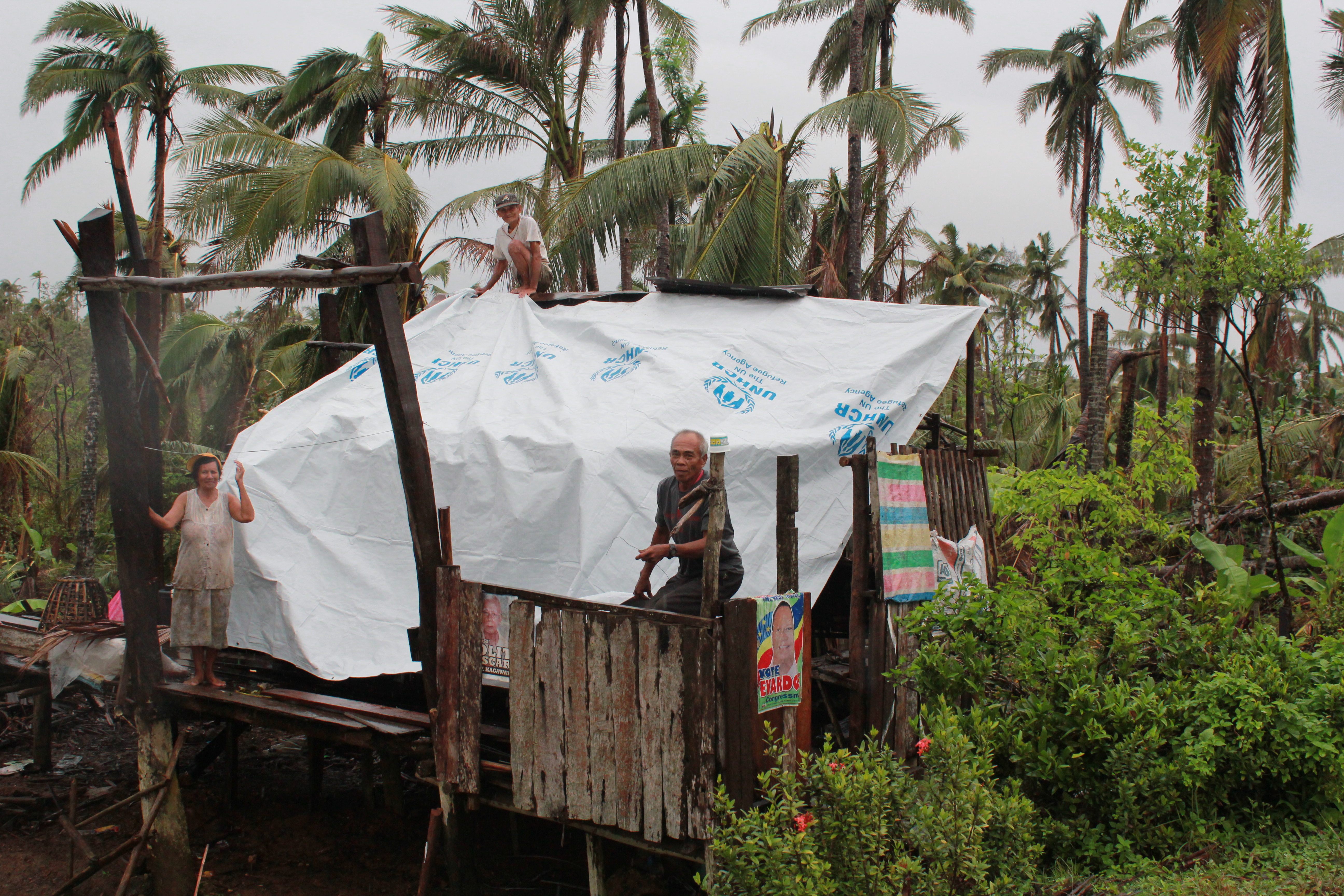 "Rise, Philippines" is a special three-part blog series that takes a look back at the crushing blow dealt by Typhoon Haiyan in November 2013, the resiliency of Filipinos and MCC's continuing work in promoting poverty reduction in the Philippines through economic growth. Read about the status of our compact.
I remember my first trip to Tacloban and Samar about three years ago, particularly the scenery as the plane made its swooping approach for landing at the airport. The colors stood out to me: vibrant green fields and mountains, silver and rusted-red tin roofs dotting the landscape, a sea that treads a fine line between blue and turquoise. The colors are tranquil and deep, portraying a benevolent and humble neighbor to the chaotic Tacloban cityscape.
As the plane descended on my most recent trip to visit the Philippines Compact's Samar Road investment a few weeks ago, I was struck once again by the colors as we landed in Tacloban. This time however, much of the vibrant green had turned brown: Stubs of tree trunks and barren limbs dotted inundated fields, once radiant with productive promise but now scattered with salted ponds from the stagnant remnants of a storm surge of historic proportions. The turquoise sea, with the stories of storm surge in every account of Typhoon Haiyan—the storm that devastated parts of the Philippines in November and killed more than 6,000 people—appeared now more like a wolf in sheep's clothing.
But the most prominent color of this visit was blue. Not sky blue, or the semi-blue of the sea, no, nothing natural; it was a bright, Lego kind of blue, something manufactured by machines. In many places, this blue took the place of the shiny silver or rusted-red roofs of before. In others, it formed all four walls of makeshift homes. In another, it spanned the mangled steel joists of a covered basketball court, providing shade from the hot sun as sandal-clad school kids chucked up three-pointers during an afternoon game.
Many structures in Tacloban that once housed a family, a business, dreams have been reduced to their basic elements—stripped and rusted steel, wooden beams and columns, rock rubble. As a stark contrast to these remnants that were installed with every intention of lasting forever, the -prevalent blue tarps will have surpassed their use if they are still up a year from now. They have aided in providing some relief and protection from the harsh elements of nature for more than 431,000 households that needed emergency shelter, but ebbing and flowing in the breeze, their temporary relief can't be disguised.
Their presence, however, is an enduring reminder of the multinational effort that ramped up in the months after the typhoon to help a neighbor in need.
Upon landing and making our way along the highway to visit the Samar Road, I realized that while the blue tarps stood out most prominently due to their color, their number paled in comparison to the innumerable white and tan tents and tarps that appeared around every bend with logos of all kinds on them. Shiny, brand-new SUVs with logos plastered on their doors are conspicuous recent additions to the normal traffic of buses and motorized tricycles that we would see along the road during previous trips. In fact, logos seem to be everywhere. All of these logos—whether on the newly built child-friendly safe-havens, the temporary schools or on vehicles carrying personnel and supplies to areas affected by the typhoon—represent the attention and presence of groups from other areas of the Philippines or from international partners. It is overwhelming to think that something from almost every corner of the globe is represented in those few hundred kilometers from Tacloban to Guiuan, where a few months ago the same roads were as remote and removed as any I had ever been on. 
Tarps and tents—whether blue, tan or white—are not what this country needs for the long haul. Residents of Leyte and Samar need investment in permanence; materials, structures, and even policies and institutions that are meant to last. Built upon solid foundations, they will hopefully become the legacy of the reconstruction effort. It is heartening to know that MCC and MCA-Philippines experienced almost no interruption in compact investments in many of the areas hardest hit by the typhoon.
Compact partners have worked together to help clear debris along the Samar Road and from nearby communities. They have collaborated with local organizations and international donors to reinforce vigilance against human trafficking—historically, a large percentage of victims of human trafficking in the Philippines have come from Samar and now that population will be even more vulnerable as many social safety nets were washed away by the storm. A massive tree re-planting effort will soon begin, supplemented by an agreement by several government agencies.
There are many relief and reconstruction activities underway in Tacloban, Leyte and Samar. As with any effort so diverse and involving so many different entities, it is difficult to see organization in all of these moving efforts, but yet, I see progress. Communities are moving forward. Children have returned to playgrounds. Families have picked up the pieces and are putting them back into place.
As the plane took off for my return to Manila, the blue tarps faded away but the images and emotion of this trip will remain forever. Passing through billowy white clouds, and seeing sun-glistened waves below, I was reminded that every storm will pass and the gifts we share will see us through.
A Wave of Serenity
Faith
helps us
weather the
storm's
surge.
Hope
offers us
a ray of light
when darkness
prevails.
Love
connects
communities
to help
heal.
Now a
new surge.
A giant wave
like none before.
Advancing forward.
Overwhelming.
No stopping
this surge
of faith,
hope,
love.