MCC Celebrates Women #BreakingtheBias
Promoting inclusion and strengthening economic opportunities for women is fundamental to MCC's mission to reduce poverty through economic growth. As part of its data-driven model, MCC consistently works on understanding impediments to women benefitting from MCC projects, and designs projects to address them.
How Does MCC #BreaktheBias
Since its inception, MCC has prioritized the incorporation of gender-inclusive initiatives into its country programs. Gender analysis informs all aspects of MCC's work, starting with its selection of country partners. MCC's country scorecard, used to determine eligibility for MCC funding, includes a Gender in the Economy indicator.
All MCC programs must meet the requirements of MCC's Gender Policy. In addition, MCC recently approved an additional criterion that focuses exclusively on women's economic empowerment, reflecting the high priority that MCC leadership places on strengthening MCC's efforts to expand women's economic security.
Each MCC compact and threshold program is grounded in a robust analysis of gender inequalities. It requires a Social and Gender Integration Plan, providing a comprehensive roadmap for social inclusion and gender integration throughout program implementation.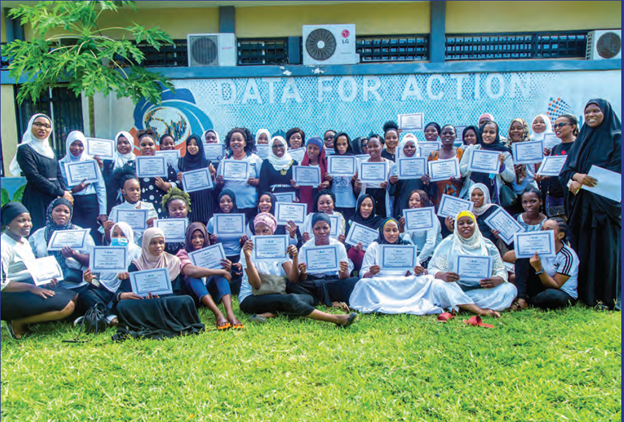 In March, MCC will launch the Women's Data Lab and Network (WDLN) in Côte d'Ivoire to help break the bias against women in STEAM fields.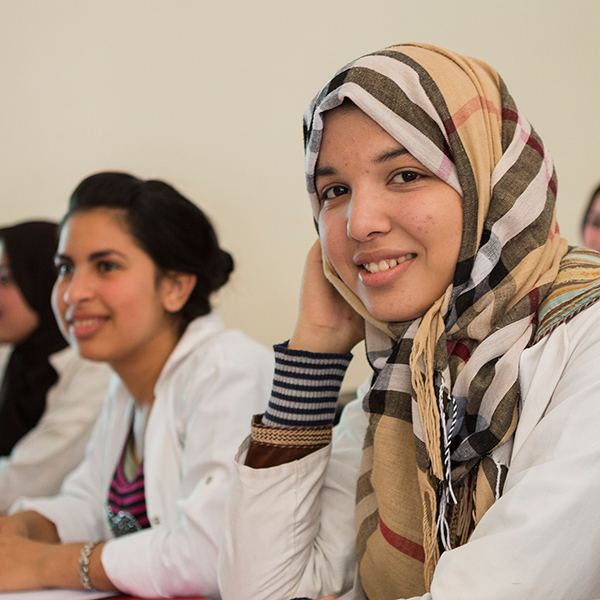 MCC recognizes that gender and social inequality are significant constraints to economic growth and poverty reduction.
Country Partners that #BreaktheBias
MCC consistently works with partner countries to unlock the economic potential of women and overcome educational, financial, cultural and legal barriers that prevent women from fully engaging in their countries' economies.
#Breakthebias Starting with Girls' Education
Educational opportunities for girls and young women shape the rest of their lives and impact their ability to earn a livelihood. In countries like Cote d'Ivoire, El Salvador, Georgia, Guatemala, and Morocco, MCC has worked to increase girls' access to quality education and improve learning environments by supporting education policy reform, training educators to promote gender equality more effectively, and building and rehabilitating schools to create more inclusive learning environments.
In El Salvador, MCC supported the development of the Ministry of Education's gender policy and the establishment of its gender unit, which carried out essential activities to improve gender equality in the country's educational system. An important first step was providing training on non-sexist education to over 1,500 teachers and principals, 10,000 students, 5,500 families, and over 100 staff from the Ministry of Education. These trainings served as the basis for deconstructing gender biases in the classrooms and schools.
Teachers now show a greater commitment [to gender equality] in the classroom by fostering more equitable dynamics with both girls and boys.

—Nelson Agustin Guzman, school principal
Building Women's Skills in Traditionally Male-Dominated Sectors
MCC helps break the bias that technical jobs are not suitable for women. In Kosovo, the female labor force participation rate is among the lowest in the world, and there is a significant lack of economic opportunity for women, particularly in the energy sector, where MCC invests its largest share of resources.
The Kosovo Threshold Program is already changing perceptions about traditionally male-dominated work sectors through a series of investments designed to strengthen women's employment and entrepreneurship in the energy sector. An internship program gives young women practical work experience and increases their employability.
200 female students




were placed for a 6-month paid internship with energy section companies nationwide.

26 women graduated




last year from a fully funded associates degree program in STEM subjects at Des Moines Area Community College in the United States. The graduates have returned to Kosovo, and most have already taken long-term positions at energy companies.
#Breakingthebias in the Workplace
In addition to creating a pipeline for women in energy through internships, MCC's Ghana Power Compact is also working with the energy utility to institutionalize gender responsiveness. A gender policy and action plan has made significant progress toward concrete employment targets to bring more women into leadership positions. The policy also commits to zero tolerance of sexual harassment in the workplace, more gender equitable recruitment and hiring practices, and maternity and paternity leave, among many other institutional improvements. As part of implementing the action plan, MCC's compact helped organize annual Women in Energy Conferences to bring together hundreds of professional women in the power sector to share ideas and identify solutions to the barriers women face. Participants have established a strong network of women and men working to strengthen advocacy for equality in the workplace.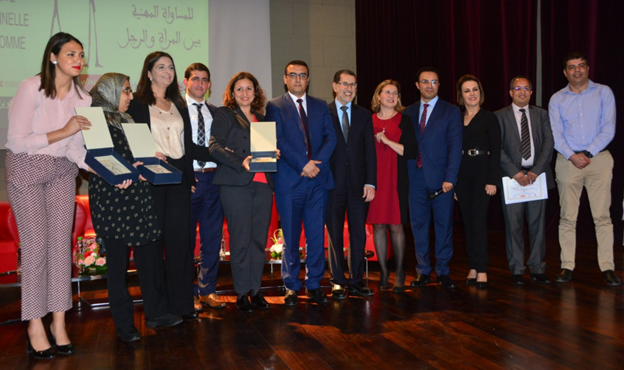 As part of MCC's compact in Morocco, MCC is working with the labor ministry to strengthen its annual Professional Equality Trophy, which supports and rewards the efforts of private sector companies to achieve gender equality in the workplace.
Equal Benefits from Infrastructure Improvements
Because women are disproportionately affected by weak infrastructure and gaps in access to services, MCC applies a gender lens when designing, implementing, and evaluating its infrastructure investments. To ensure equitable access and benefits, MCC seeks to address gender differences related to affordability, safety, productive uses, skills, decision-making, rights, regulations, and many others.
In addition, MCC helps women and other vulnerable groups use MCC investments in infrastructure toward productive uses. As part of Senegal's Power Access Project, women are specifically targeted in outreach on the uses of electricity for income generating activities and time-savings, and the financing program for equipment will also include equipment that support women's productive use.
The Benin Power Compact provided training and mentoring to female entrepreneurs in the energy sector, helping them to gain invaluable business management skills, understand grid and off-grid energy business opportunities, and access financing.
MCC is also working to close the digital gender divide by expanding women's access to information and communications technology (ICT) services. By expanding access in Togo, MCC's Threshold program is enabling women to access services such as mobile banking and timely market information, make productive use of technology in agriculture, and foster women's ability to leverage the internet for economic activity.
Eliminating Legal Bias
Women's ability to own land in Morocco has traditionally been subject to the multiple systems of law that co-exist in a complex and sometimes contradictory framework. MCC's compact provides farmers and their families with secure rights to the land they have been farming for generations, including encouraging the Government of Morocco's December 2019 adoption and implementation of legal reforms to women's land inheritance laws.
MCC's proposed compact with Lesotho incentivizes the passage of key reforms promoting women's equality and economic security. These include reforms to customary law to remove married rural women's status as minors and grant them full rights as adults—building on a landmark reform from the first Lesotho compact that changed this status for all women; inheritance reforms to give equal rights to daughters; a domestic violence bill; and extending labor protections to informal workers, including in agriculture where women are especially vulnerable to abuse. The compact program will support the implementation of these reforms through regulations and policies, training of government officials, and public information campaigns.
Policies and Partnerships that #BreaktheBias
Correcting Bias in Access to Data and Digital Skills
In March 2021, MCC and Microsoft signed an MOU to collaborate on the Women's Data Lab and Network (WDLN) in Côte d'Ivoire. WDLN is a first-of-its-kind partnership among USAID, MCC, Microsoft, and other partners. It aims to help women entrepreneurs and women-led small and medium enterprises build data skills and digital literacy, gain access to technology, and increase their profitability and competitiveness amidst a growing global digital economy. The first WDLN will be developed in Côte d'Ivoire, with the intention to replicate and scale the concept in other African countries.
Correcting Bias in Access to Financial and Human Capital
In Lesotho, the proposed compact will support a new facility addressing the human and financial capital needs of women entrepreneurs, including young women—removing the biases that currently limit their access to these critical assets. The facility will include business skills training, and incubation and acceleration programs; and support to financial institutions to develop financial products targeted to the specific needs and conditions of women and youth-owned Micro-, Small- and Medium-sized Enterprises (MSMEs).
This document lays out the operational requirements for social inclusion and gender integration in all stages of program development and implementation in accordance with MCC's Gender Policy and other MCC guidance documents.
Through MCC's Gender Policy, partner countries analyze gender differences and inequalities to inform the development, design, implementation, monitoring, and evaluation of programs.
#Breakthebias by Providing Social Safeguards
MCC has zero tolerance to Trafficking in Persons as it pertains to all MCC investments. Risks related to forced labor and sex trafficking can increase during construction of infrastructure development projects, when there is often a large influx of unaccompanied male workers. In this context, women and children face heightened risks for sexual exploitation, abuse, and harassment. In compliance with MCC's Counter-Trafficking in Persons Policy, Gender Policy, and guidelines on sexual harassment, MCC ensures that such risks are assessed and mitigated throughout the lifecycle of all programs. Furthermore, the State Department's Trafficking in Persons Report is directly integrated into MCC's partner country selection process through the World Bank's Rule of Law scorecard indicator.