Press Release
U.S., Government of Togo Sign Millennium Challenge Corporation Threshold Program
For Immediate Release
February 14, 2019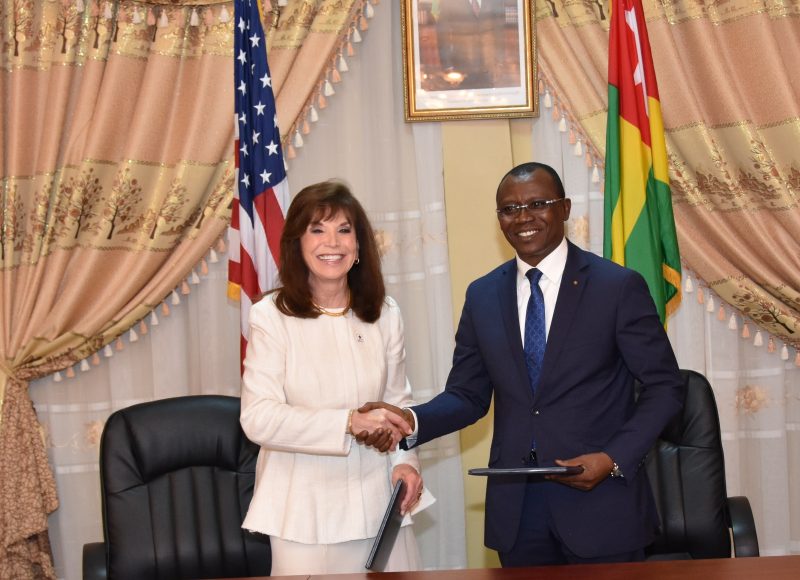 WASHINGTON, D.C., February 14, 2019— The U.S. Government's Millennium Challenge Corporation (MCC) and the Government of Togo today signed the new $35 million MCC Togo Threshold Program to support economic growth and reduce poverty.
MCC Vice President of Administration and Finance (and Agency Head) Cynthia Huger joined U.S. Ambassador to Togo David Gilmour, Togolese Prime Minister Selom Komi Klassou, Togolese Minister of Finance Sani Yaya, and Coordinator of the MCC Cellule Stanislas Baba at the signing ceremony in Lomé.
"Today, we recognize an important milestone: the signing of the MCC Togo Threshold Program," MCC Vice President of Administration and Finance (and Agency Head) Cynthia Huger said. "This innovative program places Togo's citizens and the private sector at the heart of the country's growth strategy, expanding access to the internet and communications technology, especially for underserved areas, women and youth, as well as clarifying land rights. Investments in these areas are critical to supporting democratic governance in the country, and spurring economic growth to reduce poverty to benefit the people of Togo."
"The MCC Togo Threshold Program will benefit all Togolese people, and it is something all Togolese can celebrate," said U.S. Ambassador to Togo David Gilmour. "Wherever I go in Togo, people tell me that they want better telecommunications services, and they want it to be easier to transfer property. With the MCC Threshold Program, we are going to focus on tackling these problems so that we can unlock the immense potential of this country and create a brighter future for all Togolese."
The MCC Togo Threshold Program is designed to improve citizens' access to high quality and affordable Internet and Communications Technology (ICT) services—both mobile phone services and Internet—by encouraging private sector investment, developing an independent regulatory regime, expanding service to underserved areas, and increasing the use of ICT among women and small businesses.
The threshold program will also seek to expand access to formalized land through the recognition and protection of legitimate land rights in five pilot areas across the country and to develop a regulatory framework to implement the proposed new land code. The threshold program incorporates stringent accountability mechanisms to ensure that MCC funds are tied to results and are used only for programmatic purposes.
MCC's time-limited grant investments promote economic growth and help people rise out of poverty. The threshold program is MCC's smaller grant program focused on advancing policy and institutional reform that helps partner countries better serve their people. Working with local partners, MCC tackles some of the most pressing challenges that developing countries face, such as infrastructure.
Learn more about MCC.
###