Press Release
MCC Delegation Travels to Benin, Discusses Partnership with President Talon
For Immediate Release
February 14, 2022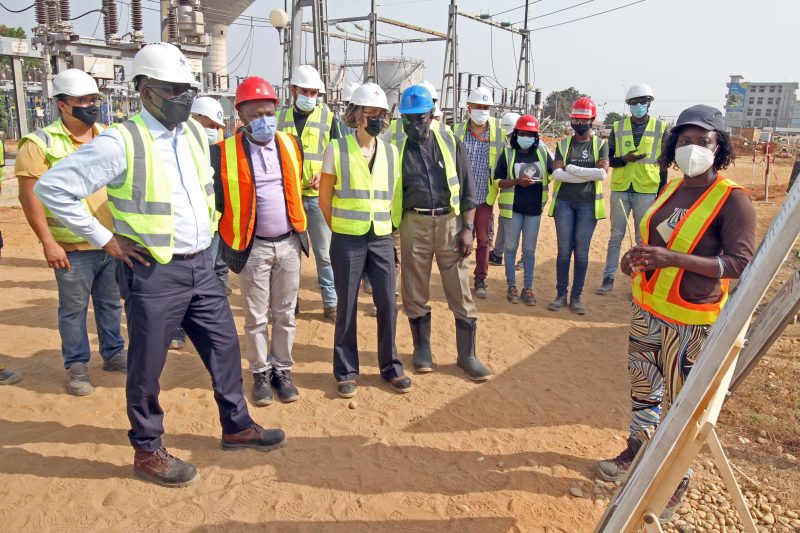 WASHINGTON (Feb. 14, 2022) – Millennium Challenge Corporation (MCC) Acting Chief Executive Officer, Mahmoud Bah, completed a trip to Cotonou, Benin on Friday where he visited MCC supported construction work sites and engaged with compact implementation actors and stakeholders, civil society members, and senior government officials, including President Patrice Talon, to discuss the continued partnership between MCC and Benin.  
During the two-day trip, Bah surveyed construction funded by the $391 million Benin Power Compact and met with government leaders to discuss progress to date on the Power compact, challenges ahead considering the pandemic and global supply chain disruption, and a potential regional compact program between Benin and Niger. 
"The MCC Power Compact with Benin is a critical part of the government's economic development strategy to secure reliable, affordable, and clean energy for an emerging Benin," said Bah. "I am thrilled to see first-hand the compact's power grid project that will improve the distribution of electricity in Cotonou and across the country by upgrading and expanding the distribution network with the latest generation of soft and hard infrastructure, while also increasing access for more than 500,000 people in rural Benin through renewable and affordable energy solutions. Finally, our compact will leverage more than $100 million in private capital with the aim of adding 65 MW of solar power." 
MCC has been a partner in Benin's economic growth since 2006, when the agency first invested in the expansion and modernization of the Port of Cotonou, resulting in a near doubling of merchandise traffic.   
MCC's current investment, the Benin Power Compact, has built critical electricity distribution lines and substations that will make electricity more reliable and give Benin's power grid five times more capacity than it has today. New solar-powered, off-grid energy work has provided 60,000 Beninese access to electricity for the first time, with hundreds of thousands of new connections expected by the compact's completion in June 2023. The Benin Power Compact supports Power Africa, a U.S. government-led partnership to increase access to power across sub-Saharan Africa.  
While in Cotonou, Bah also discussed a potential regional investment between Benin and Niger that will boost regional trade and investment by rehabilitating roads shared between the two countries.  Discussing eligibility concerns raised by the MCC Board of Directors at its meeting on December 14, 2021, Bah noted, "As with all partner governments, MCC expects the Government of Benin to demonstrate its commitment to the principles that underpin eligibility for MCC funding throughout the life of our partnership—including democratic governance."  
The possible regional program is currently being prepared for consideration by the MCC Board of Directors. "This partnership builds on more than 16 years of MCC and the Government of Benin working together to reduce poverty through economic growth. Following fruitful discussions here in Cotonou, I am positive that with a willing partner such as the Government of Benin, we will find a path forward in our collaboration that is responsive to MCC's eligibility criteria and strengthens Benin's democratic governance," added Bah. 
The Millennium Challenge Corporation is an independent U.S. government agency working to reduce global poverty through economic growth. Created in 2004, MCC provides time-limited grants and assistance to countries that meet rigorous standards for good governance, fighting corruption and respecting democratic rights.