Press Release
U.S. and Republic of Benin Sign New Energy Sector Compact
For Immediate Release
September 9, 2015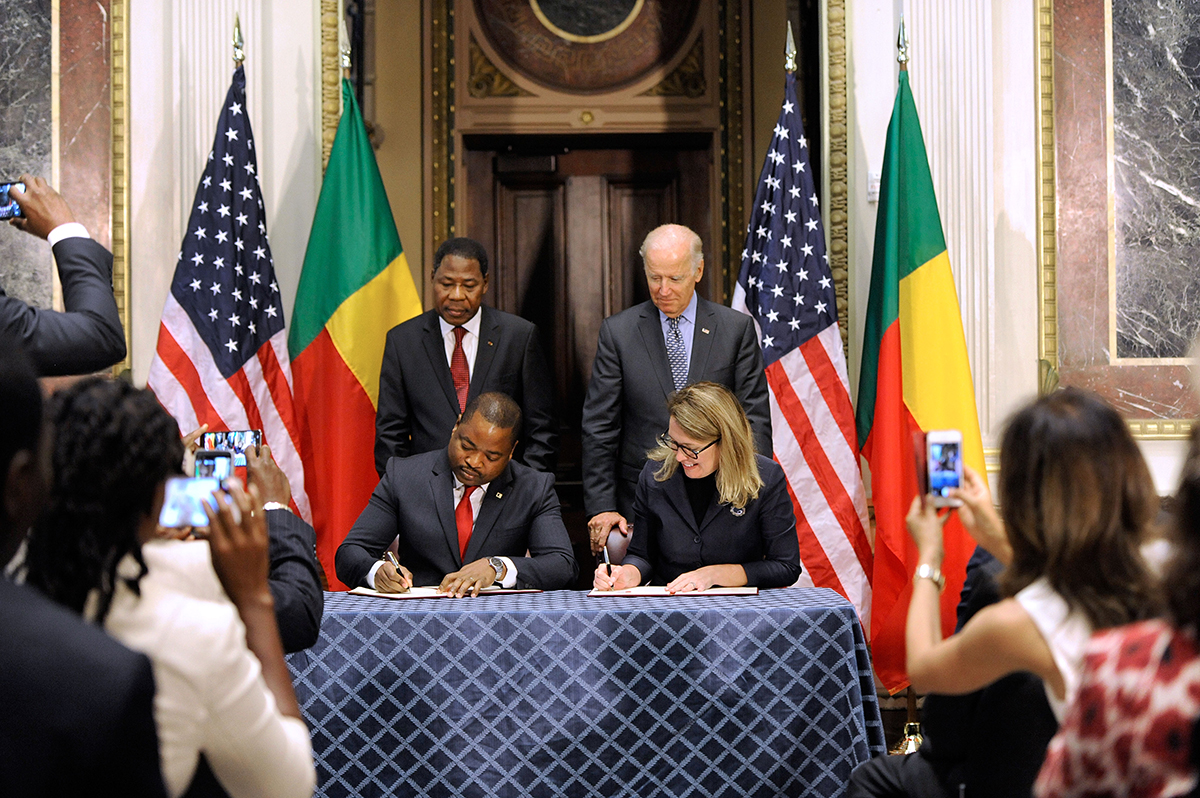 WASHINGTON, D.C. – The Millennium Challenge Corporation and the Government of Benin today signed a new, five-year partnership agreement that includes the U.S. Government's largest off-grid electrification project globally to date. The White House ceremony included remarks by Vice President Joe Biden, President of the Republic of Benin Dr. Thomas Boni Yayi, and MCC Chief Executive Officer Dana J. Hyde.
Hyde and Benin Minister of Finance Komi Koutché signed the new $375 million power-sector-focused compact, which is designed to strengthen the country's national utility, attract private-sector investment, and fund infrastructure investments in electric generation and distribution as well as off-grid electrification for poor and unserved households.
"Giving people hope is sometimes more consequential than giving them help. In this case, we do both," Vice President Biden said at the signing ceremony. "And it is transformative."  
The Benin Power Compact includes MCC's largest power generation project and largest investment in solar power to date, and represents MCC's latest contribution to the U.S. Government's Power Africa effort to double access to electricity in all of sub-Saharan Africa.
"Power is a major constraint to growth and poverty reduction in Benin, and we're excited to be collaborating with the Government of Benin to change that," MCC CEO Hyde said. "This new compact combines infrastructure investments with policy reforms that will help Benin open its power sector to private investment."
The compact was approved by MCC's Board of Directors at its quarterly meeting in June and is expected to benefit 9.8 million people over the next 20 years. The Government of Benin will contribute an additional $28 million in support of the compact. MCC completed its first compact with Benin in 2011. The five-year, $307 million compact modernized and expanded the Port of Cotonou, increased land security, improved access to capital for micro- and medium-sized enterprises, and created a more efficient judicial system.
Today's signing ceremony also included a performance by Grammy Award-winning singer-songwriter from Benin Angélique Kidjo. Kidjo is a UNICEF Goodwill Ambassador and founder of The Batonga Foundation, which empowers young women and girls in Africa through secondary school and higher education.
Learn more about the Benin Power Compact here.  
About the Millennium Challenge Corporation:  MCC is an innovative and independent U.S. agency that is working to reduce global poverty through economic growth. Created by the U.S. Congress in January 2004, with strong bipartisan support, MCC provides time-limited grants and assistance to countries that demonstrate a commitment to good governance, investments in people and economic freedom. Learn more about MCC at www.mcc.gov and follow us on Facebook and Twitter.
                                                                                                                 ###