MCC CEO Dana J. Hyde's Remarks at the Celebration of the Morocco Employability and Land Compact Signing
April 14, 2016, Rabat, Morocco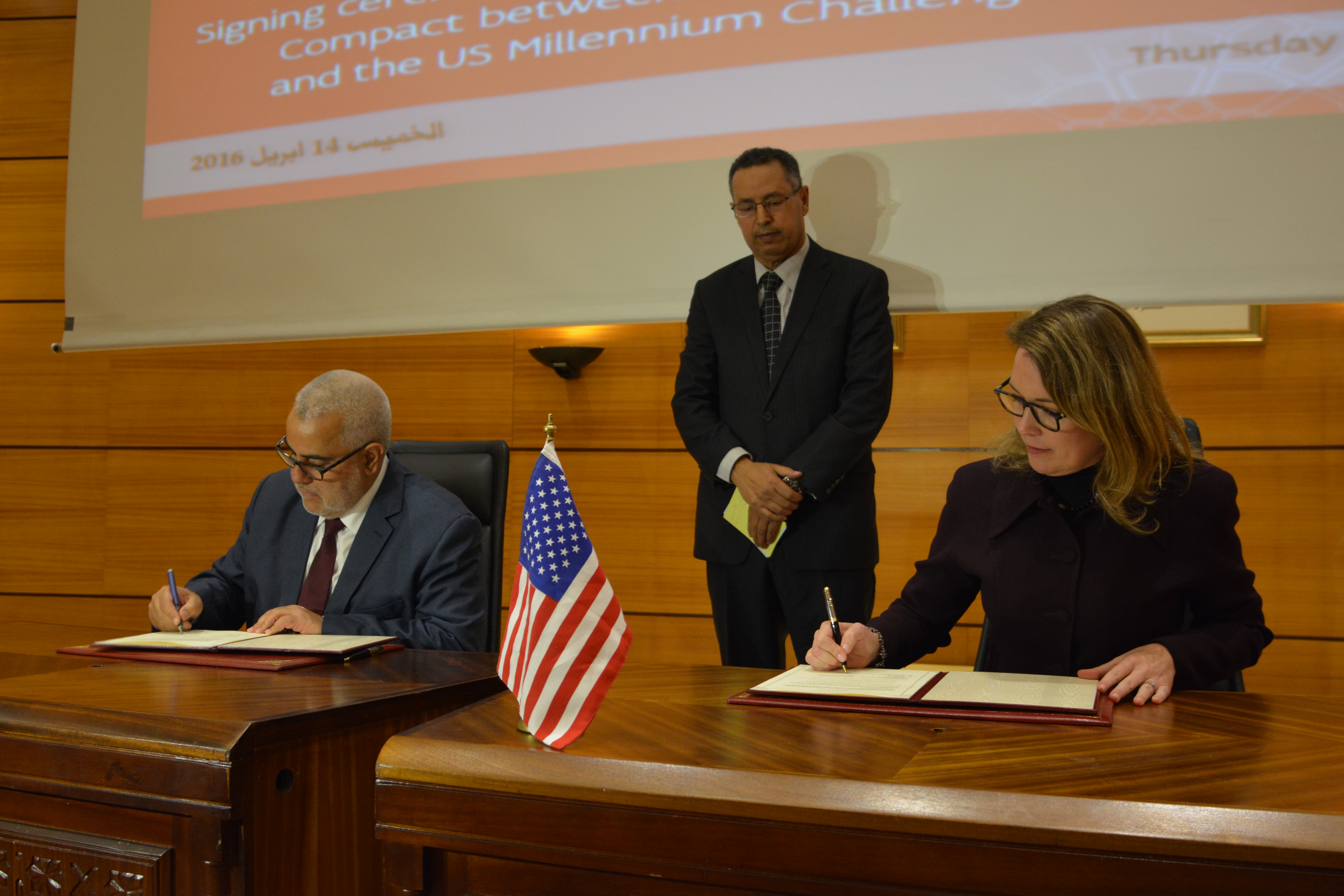 I am delighted to be here with you this morning. Today, we are celebrating a new chapter in the close partnership between Morocco and the U.S. government's Millennium Challenge Corporation.
We are grateful to be joined by a number of distinguished members of the Moroccan government, and many good friends and partners of Morocco and MCC.
The Head of Government has been a personal and tireless champion for MCC's partnership with Morocco, dating back to our first compact investment. We are deeply grateful for the support of you and your colleagues in government, and of your collective commitment to our shared mission.
Let me also recognize Abdelghni Lakhdar, the national coordinator for this second compact, his team,
and their partners within the various Ministries, including the Ministries of Interior, Industry, Education, Labor and Agriculture. They have worked incredibly hard to meet the ambitious timeline to create this compact – and to meet the higher bar for second compacts.
I would also like to thank the African Development Bank and our other multilateral development partners for their engagement and support along the way.
And finally, I want to extend my thanks to Ambassador Bush, the team at USAID, and the entire embassy staff. You have been instrumental in advancing MCC's partnership with Morocco, and you really brought us to this day.
As you know, the United States and Morocco share a special bond. Morocco was the first country to formally recognize our young nation. Since then, our governments have worked closely together to promote peace, prosperity, and democracy.
MCC's partnership with Morocco dates back to the early days of MCC's creation—just over a decade ago—when we partnered together in the first compact to unlock the enormous economic potential of the Moroccan people.
We invested, for example, in preserving and promoting Morocco's rich cultural heritage in the ancient cities of Marrakech and Fez. Just yesterday, I was in the beautiful city of Fez, and had the opportunity to visit the fully restored fondouks and meet with artisans in the Medina whose lives have truly been transformed.
This new compact investment—a $450 million grant over five years—builds on the legacy of our successful collaboration. Like the first, we are investing in Morocco's most valuable resource—its people.
As many of you know, second compacts with MCC are far from automatic—in fact, there is a much higher bar for a second partnership. Among other important considerations, countries must demonstrate a commitment to undertaking challenging but important institutional and policy reforms—reforms that can truly have a transformational impact.
So in this compact we are particularly proud to support two key priorities of the Moroccan Government: first, providing young men and women with the education, skills and vocational training needed to succeed in today's job market; and second, laying the foundation for sustained economic growth for all Moroccans through crucial land policy reform.
The continued modernization of the Moroccan economy—from farming to industrial production—will rely on the effective management of the country's land resources.
We congratulate the Moroccan Government on the successful National Land Policy Conference, Assisse, held last December. The Conference was a testament to this Government's strong commitment to addressing the important issues of land rights and land administration.
As his Majesty remarked in his message to the Conference participants, access to land is an important catalyst for productive investment, which generates income, creates jobs and enables growth in all sectors—from industry, to agriculture, to tourism.
MCC's compact will support the goals discussed during the Conference and the priorities of his Majesty. We will work together on a path to transition collective land to private status and to create new models for making industrial land available to companies. These reforms will build the environment for businesses in Morocco to grow and generate new high-quality jobs.
Now, for these businesses to come to Morocco or expand their operations here, they need a skilled workforce. We often hear from Moroccan and other businesses that they cannot find the employees they need to compete in the global economy.
And yet at the same time, we know many Moroccan families are concerned about the future of their children, and young people are facing the challenge of being able to find meaningful employment.
To close that gap, MCC will support the Government of Morocco's ambitious reform agenda around education. This compact will improve secondary education and vocational training programs so that young people and others have the skills that businesses are looking for.
I am particularly excited about this compact's focus on women in the workforce.  By supporting training and job placement for women, we are ensuring that all Moroccans have access to the opportunities they deserve.
Now, we are standing here today because of the tireless efforts of teams on both sides of the Atlantic. This includes the incredible MCC and Moroccan government staff, as well as the businesses and civil society organizations that provided invaluable input along the way.
MCC and the Government of Morocco consulted with many businesses and private sector associations throughout the process, and we are grateful for their contributions.
Of course, today's celebration is only the beginning. Much of the challenging work lies ahead.  Yet we are excited to stand with all of you in these important endeavors.
I want to give a special thanks to the MCC folks here today, including Rick, Melissa, Lisa, Leigh and our new Resident Country Director, Carrie Monahan. And I want to congratulate everyone here and the MCC team back in Washington who helped bring this partnership to fruition. Thank you all in advance for your commitment to the important work still to come.
Shokran; Merci; and Thank you