MCC Chief Operating Officer Jonathan Nash's Remarks at SDSU in Georgia Convocation Ceremony
September 19, 2018, Tbilisi, Georgia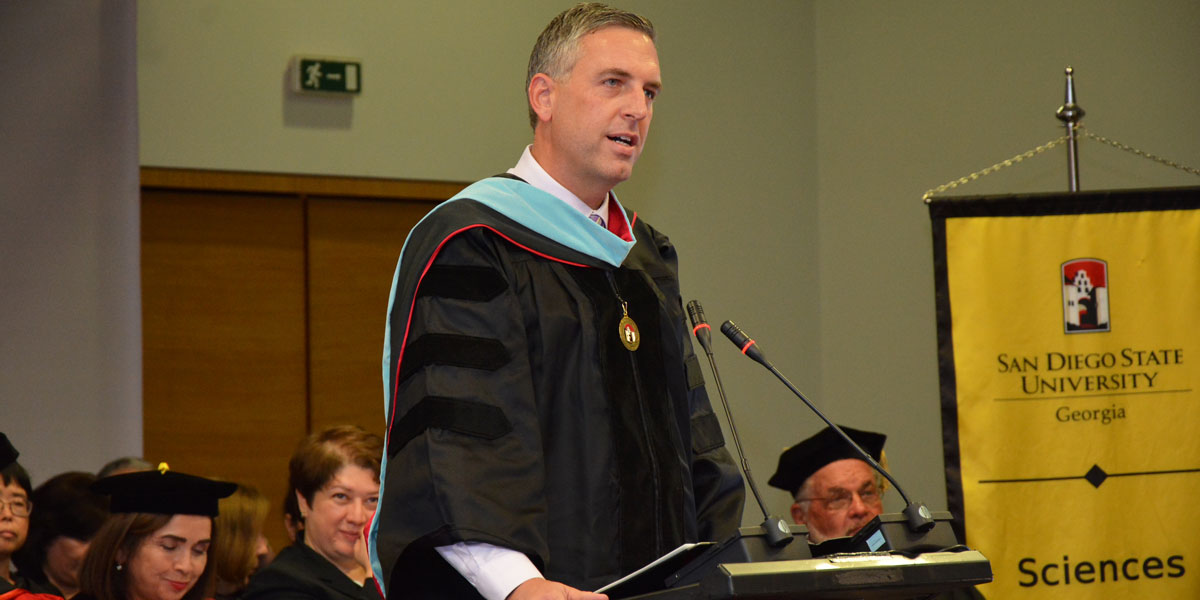 Good afternoon! 
I am very excited to be here at the SDSU-Georgia convocation ceremony. What a wonderful occasion to highlight the fantastic opportunities provided by this unique partnership between the Millennium Challenge Corporation, the Government of Georgia and San Diego State University.
I would first like to thank Vice-Prime Minister Tskitishvili and Minister Batiashvili for being here. Your government's support of this innovative project has been essential. 
I also want to extend my thanks to President de la Torre. I know Tbilisi is a long way from San Diego, and your being with us is a testament to the University's commitment to this wonderful program. 
Additionally, I would like to acknowledge Chargé d'Affaires Rood, Dean Guven and Magda Magradze, the CEO of Millennium Challenge Account-Georgia, our excellent implementing partner for MCC's Georgia investment.
I've always appreciated the time I've been lucky enough to spend in this beautiful country. I actually had the opportunity many years ago to be on the team that helped conceptualize some of the work we've now seen come to fruition in Georgia. So being here today—and seeing the incredible enthusiasm that all of our new students are bringing to this program— is an honor for me.
As you probably know, SDSU is the only American university delivering STEM bachelor's degrees in this country, and it is the only program offering young men and women the chance to earn internationally accredited degrees in science, technology, engineering, and math right here in Georgia.
Pursuing careers in STEM puts young people on a path to prosperity, but historically, women have faced barriers to education and careers in STEM. A United Nations study of 14 different countries found that only 14 percent of women undergraduate students went on to graduate in a science-related field.
That is why I am happy to see that nearly 40 percent of you in this new cohort are young women. We at MCC have long-believed that the economic empowerment of women is essential to the prosperity of any nation, and empowering women is a cornerstone of all our work to spur economic growth and reduce poverty.  
The reputation of SDSU in Georgia as one of the most prestigious universities in the country is growing. In its first year, the program had about 80 students. This year, SDSU in Georgia is welcoming 230 new students—its biggest cohort ever—bringing the total number enrolled in the program to around 550.
SDSU's pioneering participation in this project not only brings their mission of providing transformative experiences for students in research, international experiences, sustainability and entrepreneurship to a culturally rich region of the world with a bright future, it furthers the global causes of scientific advancement, women's equality and poverty reduction.
SDSU, our three partner universities, our Government and private sector partners, and many here on this stage can be enormously proud of what their work has done to establish a strong foundation for STEM education in Georgia. Now—as incoming students—it is your opportunity to build on this foundation.
So, in my visits to Georgia, I have been introduced to not only amazing students, teachers, and partners—and food—I've also been introduced to Georgian history and culture, including the great Georgian poet, Shota Rustaveli. In the words of Rustaveli:
"The roots of learning can be bitter, but grow sweeter as you reach the top of the tree." 
This is a highly competitive program, and the fact that you have been accepted into it means you represent some of the most talented students in Georgia. Over your four years of study, you will experience both the challenges and the great rewards that come with an SDSU education. 
Make the most of it. Make your mark. Study hard and don't forget to learn from each other. Have fun, but keep your focus. Take control of your future and help shape the future we'll all live in.
Thank you once again for the chance to celebrate this special day with all of you. I look forward to many more years of see and hearing about the accomplishments of SDSU-Georgia students. We are all here today because we believe you can achieve big things, and I know you will.