MCC Acting CEO Jonathan Nash's Remarks at the Côte d'Ivoire Compact Signing
November 7, 2017, Washington D.C.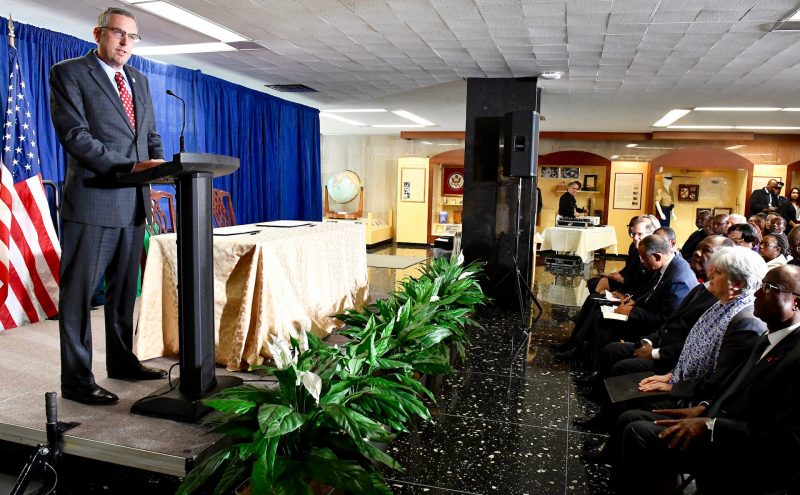 Good morning.
On behalf of all of us at the Millennium Challenge Corporation, thank you for joining us to celebrate this partnership between the United States and Côte d'Ivoire.
We are honored to have President Ouattara with us today. Thank you for joining us, Mr. President, and thank you for your leadership, as you have played a key role in getting us here.
I want to extend our sincere gratitude to Acting Principal Deputy Assistant Secretary of African Affairs Stephanie Sullivan for hosting us today.
As President Trump noted during a lunch with African leaders during this year's United Nations General Assembly, Côte d'Ivoire has made impressive economic reforms that make the country more business-friendly.
President Ouattara, when you made the decision five years ago to use MCC's scorecard to guide governance and business climate reforms in Côte d'Ivoire, you started down a path that led us all here today. Your leadership and the commitment seen across the Government of Côte d'Ivoire has led to real change.
So, while today's compact signing marks an exciting new phase of our collaboration, as we look to the opportunities ahead, we would be remiss if we didn't pause and mark the great strides made thus far.
This compact will build on a solid foundation of progress established in Côte d'Ivoire and will help to realize a stable and more prosperous future for the Ivorian people.
I'd like to thank Thierry Tanoh and Secretary General Achi for their leadership, and Aida N'Diaye-Riddick and her team for what has been a true collaboration in developing the compact we are here to sign. I would also like to recognize every member of MCC's Côte d'Ivoire team, led by David Weld.
Let me also thank the Members of Congress and MCC Board members who have shown support for this compact and MCC's overall mission.
I would like to recognize the important contributions made by partners, some of whom are with us here today, including U.S. Government colleagues from the Embassy in Abidjan, USAID, the Department of Treasury, and Department of Commerce, as well as bi-lateral and multi-lateral organizations, including the African Development Bank, the World Bank, the Japanese International Cooperation Agency, and the French Development Agency.
MCC always seeks to partner with organizations that share our goal of generating economic growth to help people lift themselves out of poverty. Thank you to members of the business community in the United States and Côte d'Ivoire, including the U.S. Chamber of Commerce in Abidjan, and other groups working in the broader West African region.
I would like to say a few words about the compact that many in this room helped to develop. This compact is a $524.7 million investment in the future of Côte d'Ivoire and its people.
Côte d'Ivoire is an economic and cultural hub in West Africa—a longtime strategic and economic partner of the United States—but a narrowly focused economy has held the nation back from achieving its full potential.
This compact will work to diversify the nation's economy by targeting two constraints to growth—access to a skilled work force and the mobility of goods and people in Abidjan, Côte d'Ivoire's commercial capital.
The single biggest concern we heard from the private sector as we worked to develop this compact was their inability to find skilled workers. We heard this from businesses big and small, national and international.
The compact's Skills Project will take on this challenge. We will focus on improving basic literacy and numeracy skills in secondary education, complemented by an innovative technical and vocational training model that is closely linked with actual needs of the private sector.
Complementing this, the Transport Project will focus on rehabilitating key roads in Abidjan to enable people and goods to move more freely throughout the busy city and its strategic port. With 20 percent of the nation's population living in Abidjan, unlocking congestion will create opportunities to buy and sell products, expand businesses, improve access to key services, and open up greater trade.
This compact is expected to benefit more than 11 million people. In a country where more than half the population is under the age of 24, it will help to shape a strong, stable future for Côte d'Ivoire.
This compact is all about creating opportunities and stability—for citizens and businesses in Côte d'Ivoire, West Africa, and in the United States.
The exceptional progress and partnership we have seen thus far in our collaboration makes MCC all the more excited to sign this compact with the Government of Côte d'Ivoire.
Thank you again for being here today. Thank you for the work you've all done to bring us this far, and thank you for the support that I know will continue as we move this ambitious effort forward.