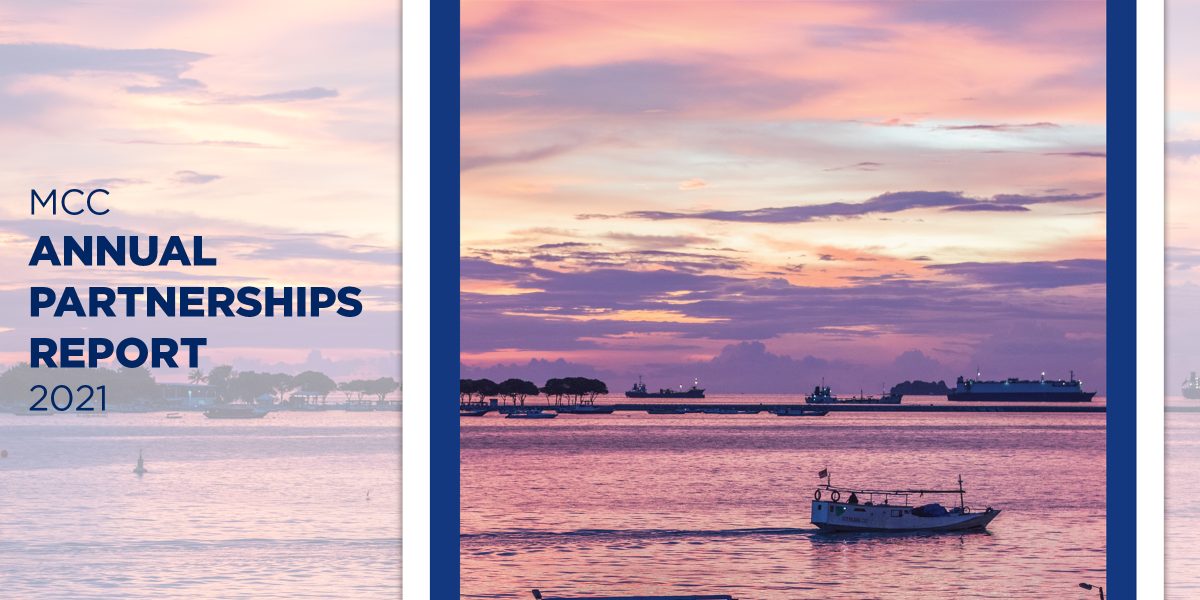 MCC's Partnership Vision
MCC seeks to partner with organizations that share our goal of achieving poverty reduction through economic growth. MCC partnerships take many forms and benefit both MCC and our partner organizations by increasing our respective access to cutting-edge research, knowledge, data, funding, networks and expertise. Partnerships also benefit the public by helping to open new markets, scale programs, drive innovation, and transform the lives of people around the world.
Why Partner with MCC?
MCC is a unique partner in international development. Here are a few reasons to consider partnering with us:
Strong Country Relationships: Our country ownership model means we develop strong relationships in our partner countries at the highest levels of leadership.
Sustainability and Scale: Our investments support models and approaches for economic development that strive for scale and replicability. Partnerships offer a unique proving ground for subsequent operations and investment within our time-limited compacts and threshold programs.
Proven Expertise: MCC's staff and the country partners who oversee our investments on the ground have deep sectoral and country knowledge, and we work with key influencers and implementers who are driving economic growth.
Systematic Approach: We understand that to achieve poverty reduction through economic growth, we need to invest in policies, institutions, people, and infrastructure—and we tailor each of our investments to address the unique needs of our partner countries.
Value Partnership: We know we need smart, innovative, dedicated, and thoughtful partners who are willing to invest alongside us to drive sustainable growth and reduce poverty.
Current Partnership Opportunities
Practically, partnerships may be developed through multiple pathways, depending upon 1) whether organizations partner directly with MCC or with MCC's country counterparts called Millennium Challenge Accounts (MCAs), and 2) whether MCC or an MCA partially funds the partner's activities.
For opportunities partially funded by MCC, see the Partnerships Annual Program Statement page. For opportunities partially funded by an MCA, see the Do Business with MCC Partner Countries page. For opportunities where partners seek to align their own program activities or investments with an MCC or an MCA-led program but do not seek additional MCC or MCA funding, please contact MCC using the link below for any of the following areas:
Education and Employability
Digital Capacity Building & Infrastructure
Women's Economic Empowerment
Productive Use of Energy
Access to Financial Services
Agricultural Sector Development
Water Supply and Access
Health
Employee Engagement and Corporate Volunteerism
What Do We Look for in a Partner?
MCC partners with companies, financial institutions, foundations, universities, non-governmental organizations, faith-based organizations, development agencies, and fellow U.S. government agencies, because we know partnerships increase our shared impact.
No matter what type of entity you represent, we're looking for:
Knowledge and Information: We look to collaborate with organizations that have specialized knowledge, information, and data. Together we can work to stay on the cutting-edge of development using new tools, research, and methods.
Networks and People: An ideal partner not only brings their unique talents to our mission and programs, but also brings a like-minded network of associates that help us engage a wider group of stakeholders.
Innovation: We value new ideas, new approaches, and more effective and affordable products and services that help us work more productively.
Quantifiable Investment: We aim to use our public resources to attract additional investments. Whether through direct funding or other tangible contributions, we are looking for partners that want to invest with or alongside MCC.
Aligned Values: We seek partners with shared objectives and track records of ethical practices.
Value Partnership: While partnership is a powerful tool for achieving shared goals, it is not always easy and requires flexibility and patience.  We look for partners who are ready to co-create, learn with us, and continually reflect on how we can best achieve our individual interests and shared goals.
Stay Informed and Engaged
Sign up to receive emails about MCC's public events to learn more about MCC and how to stay engaged, be a part of the conversation, and hear about upcoming partnership opportunities, including:
Outreach Events: MCC convenes local roundtables with Chambers of Commerce, trade groups, associations, and interested private sector and civil society partners to discuss collaboration opportunities.
Overseas Events: MCC partner countries occasionally host public events. Contact us by email if you are interested in events taking place in an MCC partner country.
Invite Us: MCC may also be able to come to your event and share information on our approach to partnering and current partnership opportunities. Contact us to let us know about your event.