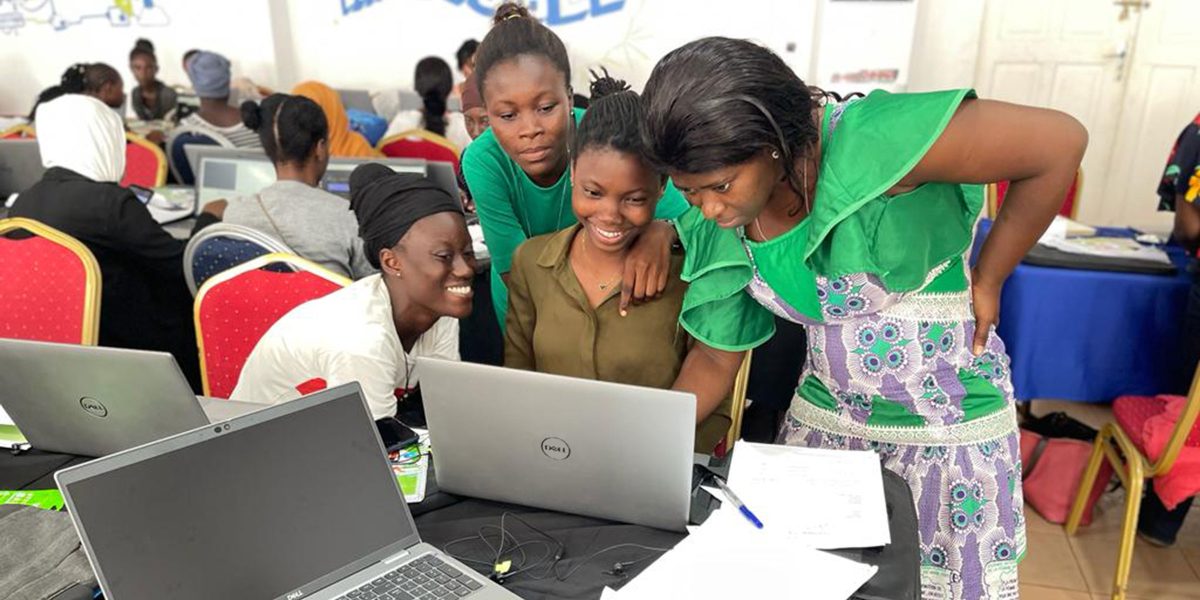 MCC seeks to partner with organizations that share our goal of achieving poverty reduction through economic growth. MCC partnerships take many forms and benefit both MCC and our counterparts in partner countries by increasing our respective access to cutting-edge research, knowledge, data, funding, networks and expertise. Partnerships also benefit the public by helping to open new markets, scale programs, drive innovation, and transform the lives of people around the world.
MCC partners with companies, financial institutions, foundations, academic institutions, non-governmental organizations, faith-based organizations, development agencies, and fellow U.S. government agencies because we know partnerships increase our shared impact.
Forms of Partnerships
MCC considers partnership a collaborative relationship in which two or more entities work together to: achieve a common purpose or undertake a specific task; share risks, responsibilities, resources and competencies; share benefits; and mutually determine goals, structure, governance, roles and responsibilities of their collaboration.
Practically, partnerships may be developed through multiple pathways, depending upon whether organizations partner directly with MCC or with MCC's country counterparts called Millennium Challenge Accounts (MCAs); whether MCC or an MCA partially funds the partner's activities; and whether the partnership focuses on blended finance investments.
Partnerships take the following forms:
Aligned Investments: where partners and MCC or MCAs align their own activities or financial resources towards a shared objective, without MCC or the MCA funding the partners' activities.
MCC Cooperative Agreements: where partnership activities are co-designed and significantly funded by MCC, with partner cost sharing, and partners selected through a Partnerships Annual Program Statement.
MCA Cooperation Agreements: where partnership activities are co-designed and significantly funded by compact or threshold program funds, with partner cost sharing, and partners selected through a Program Partnership Solicitation.
MCC also supports and enables a variety of blended finance arrangements.
What We Offer and Seek from Partners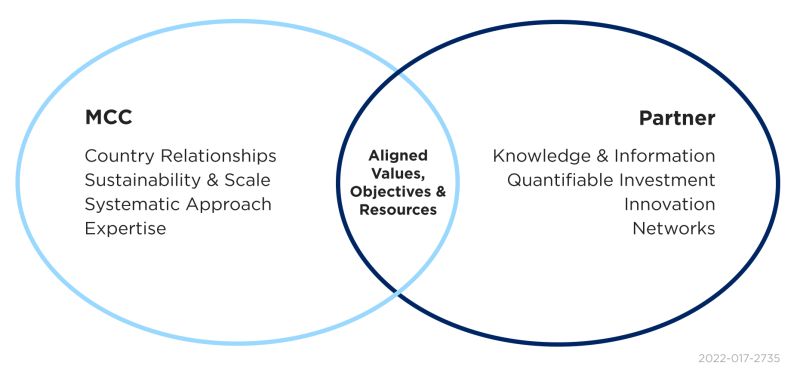 What Works in Partnership
In MCC's experience, successful partnerships are those where:
MCC has identified a need or opportunity at the agency level or in a country program to generate public good that can be met via partnership
MCC and the partner(s) equitably co-develop what is required
Each party brings complementary resources, including intangible resources
Expected outcomes are agreed at the beginning, usually with flexibility over the "how"
The parties are mutually accountable to each other for delivery of commitments
The partnership is based on trust and mutual benefit, with power balanced appropriately
Stay Informed and Engaged
Sign up to receive emails about MCC's public events to learn more about MCC and how to stay engaged, be a part of the conversation, and hear about upcoming partnership opportunities, including:
Outreach Events: MCC convenes local roundtables with Chambers of Commerce, trade groups, associations, and interested private sector and civil society partners to discuss collaboration opportunities.
Overseas Events: MCC partner countries occasionally host public events. Contact us by email if you are interested in events taking place in an MCC partner country.
Invite Us: MCC may also be able to come to your event and share information on our approach to partnering and current partnership opportunities. Contact us to let us know about your event.